We Asked Our International Living Network of Over 200 Seasoned Travellers and Expatriates to Spill All
Their Best-Kept Secrets
And they obliged: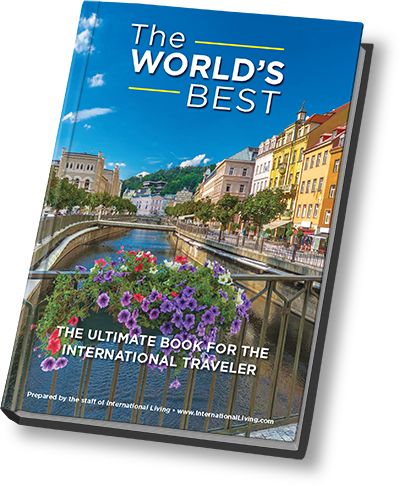 The most sophisticated city in Thailand…
The friendliest nation in Southeast Asia…
The most undiscovered island in the Pacific…
The best brunch in Kuala Lumpur…
The most romantic restaurants in Paris…
The three best ways to spend a Sunday in London…
Italy's most spectacular scenic drive…
The best budget hotel in New York…
The result is a rare glimpse into
4,481

of the world's most fascinating places to go and things to do ever assembled…

Dear International Living Australia Reader,
Every traveller has precious moments they can recount after a fabulous trip.
The romantic café you accidentally stumble upon down a cobblestone alley in Paris, where time stands still for an entire afternoon…
The locals-only market in Shanghai where you discover bargains beyond what you imagined possible for a tourist…
The 1,000-year-old cathedral you traipse through in Rome—when you close your eyes, you can still see the light streaming through the stained glass just so at sunset…
At International Living Australia, we're lucky to have people who share these private moments with us all the time…too lucky, in fact, to keep them selfishly to ourselves.
So we compiled literally thousands of our favourites for you to explore and enjoy, and we've humbly called it The World's Best: The Ultimate Book for the International Traveller.
This is, by far, our most ambitious publication. I think the result will surprise you. Or amuse you. Maybe even excite and inspire you.
I can tell you this, you'll be a little breathless when you open the first page and look at the table of contents.
Here's why…
A Little of Everything… From Everywhere
The World's Best is exactly that—a subjective set of bests culled from more than 200 seasoned travellers and expatriates around the world who are affiliated with International Living.
It spans 76 countries across six continents…and is contained within 800 pages…barely!
It isn't exactly the stuff of guidebooks…although it is chock-full of phone numbers, addresses, and directions to incredible places.
It isn't exactly a history lesson…although you get snippets of stories behind the places that will make you laugh, and a few that will make you cry.
It is more of a traveller's log, with notes to a dear friend in the margins.
From the sites you shouldn't miss to the restaurants you might unless you know where to look for them.
We didn't give our contributors a template, or a word count, like most publishers do.
We didn't just have them collect a bunch of brochures, or call the Ministry of Tourism for a general overview.
Believe it or not, we weren't looking for quantity of information (though we got that, too!), but quality.
The quirks as well as the straightforward facts:
The most beautiful temples in Southeast Asia—temples that have not fallen to mass tourism or redevelopment. One of our favourites boasts a bougainvillea-filled courtyard and is situated right on the Mekong River. (p.585)
When in Rome…the locals usher in the New Year by buying distinctive new, red underwear…from the silly to the sublime. You'll know which shops have the best selection if you want to join in. (p.427)
The most beautiful island on America's Atlantic Coast. Here you can walk on rocky and sandy beaches protected by bluffs and dunes…explore inland pine forests, brightly coloured cliffs and small fishing villages…canoe on peaceful lakes and ponds among rare seabirds…and even buy your own fresh lobster and steamer and prepare your own seafood feast! (p.660)
The cheapest place for expensive coffee…drink the world's most expensive coffee from Jamaica's highest mountain for less than you would pay anywhere in the world. (p.223)
Escape from Paris…discover the best place to linger over long meals in the French countryside… famous truffles, game, crayfish, and morels…washed down with a local Bergerac. (p.309)
The timeless, endless summer…discover the land of endless summer, where you are surrounded by rainforests, orchids, and warm waves. A place where life is lazy, no one worries about the time…and it's only 40 minutes away from a bustling modern city. (p.496)
Matchmaker, matchmaker…in a tiny Irish town with only 700 people—the men are men and the women are scarce. How's a guy supposed to get a date, let alone find a mate? Easy. Host an annual matchmaking festival that attracts another 7,000 people who are looking for love, too. Find a match…or at least dance until dawn while you browse. (p.419)
The most extensive collection of Pharaonic art…spend hours wandering around this museum which houses over 120,000 pieces, including the famous mask of the "boy king" Tutankhamen. (p.31)
The World's Best covers so much ground you'll have jetlag by page 400 (by then we are in India)…and you're still only half-way through (there's still North and South America, Japan and Southeast Asia to go!).
Seriously, I was amazed at the massive amount of material we collected when we put out the call.
There are enough snippets of history and storytelling to give you the flavour of a place, but not so much that you get bogged down.
Enough inside information to give you an edge, but not so much that you miss out on the main attractions.
Even if you're a seasoned traveller, you're sure to discover more than a few places that weren't on your must-see list.
Until now.
(Personally, I was ready to book a trip around page 166 when I read about Bulgaria's spa resorts. The country has more than 220 mineral water springs which, along with the mud along the Black Sea coast, are believed to have curative properties. One of the best spa resorts in the world is here with its abundance of sunshine and rich vegetation which make for a very relaxing stay.)
For some, this is armchair travel at its best.
No need to board a plane…unless you desperately want to…instead, you can enjoy The World's Best from a cosy spot in your living room.
For others, the urge to run to your computer and book a flight will be almost impossible to resist. So why fight it?
Why We Think This is 'The Ultimate

Book for the International Traveller'

It's almost impossible to sum up the magnitude of The World's Best…and that's just the point. Of course, there are hundreds of places that you might already know, such as:
The grandeur and sanctity of the Vatican (p.425)
The sacred Ganges River (p.398)
The infamous and beautiful Tiananmen Square (p.229)
The art-lover's Louvre (p.282)
The best jazz festival in the United States (p.683)
The majestic pagodas of Burma (p.588)
The amazing "hidden" city of Machu Picchu (p.530)
The Acropolis in the heart of ancient Athens (p.347)
The puzzling Sphinx (p.36)
Germany's Black Forest (p.328)
Italy's incomparable Ponte Vecchio (p.431)
The reef-encircled archipelago of Palau (p.586)
India's opulent Taj Mahal (p.379)
Then, there are the "signature" aspects of each country…the places you must see, and the things you must do.
It's more than you can squeeze into one lifetime—but it's certainly worth a try:
Go elephant trekking in South-East Asia (p.581)
Watch leaping lemurs in Madagascar (p.17)
Relax and unwind in the Philippine's beautiful and graceful Cebu City, the "Queen City of the South" (p.584)
Catch a besuboru game at the best stadium in Japan (p.463)
Visit one of Ernest Hemingway's favourite hotels in Key West, Florida, USA (p.684)
Tour scuba Mecca's in Palau, Israel, Cayman Islands, Guadeloupe, Belize, and the little-known Caribbean island of Saba (p.766)
Hang out in the best bistros in Paris—whisper sweet-nothings to your amour or talk politics…the choice is yours (p.296)
Get lost in Venice—literally—at Il Labirinto. No worries, the caretaker can come and lead you out of the four-mile, hedge-lined maze if you can't find your way out (p.436)
Indulge in the Spanish passion for paella (p.601)
Photograph wild grizzly bears in their natural habitat (from a safe distance, of course!) in Glacier National Park, Montana, USA (p.698)
Explore the last primeval forest of central Europe in a horse-drawn carriage (p.536)
Hide from the 100+ inches of snow that falls on Montreal in the winter…and do a little underground shopping while you're there (p.779)
Plus, hundreds of little surprises

and curiosities, like:
The most rustic place to eat in Kuala Lumpur—this café's 16 or so tables are usually full of locals noisily tucking into a mix of Chinese, Malay, or Indian specialties…or indulging in chicken, sausages, or fish. But the reason most still come here is for its mouth-watering, affordable steaks (p. 592)
The best place to celebrate St. Patrick's Day in the Caribbean—which happens to correspond with the famous slave revolt against wealthy plantation owners over 100 years ago (p.208)
Why you still should visit the ugliest, most polluted city in China (p.239)
Where to find the largest collection of second-hand designer scarves—hand-painted, hand-sewn works of art that can go for $400 or more a-piece—at half-price (p.289)
The best custom-made clothing in Singapore. Here, prices are cheaper, the selection of fabrics is greater and the workmanship is at least as good as that of anyplace else in the world (p.590)
"The Grand Canyon of the Pacific" on the lush tropical island of Kauai, Hawaii, USA. It's over 1 kilometre deep and 16 kilometres long. Its valleys are green and its ridges are blanketed with flowers. And here you can hike down a special trail and explore ancient Hawaiian ruins. (p.720)
Eighty-two feet underground you'll find 156 miles of endlessly branching tunnels where the bones of victims of The Terror in 1785 were carried…bring a flashlight and take the creepiest tour in all of Europe (p.293)
If you don't think of France as a prime surfer's destination, you will. At night when you ditch your board, you can recoup in a bed where Queen Victoria and Edward VII slept, among others (p.315)
Forget the beer and bratwurst, instead, indulge in wine, hard cider and jazz in this hip, hot German playground for the young, single and hard-bodied crowd (p.322)
See the largest collection of cuckoos (the birds, not the clocks!)… the normally shy bird that is rarely seen or heard anywhere else in the world is perfectly at home here…and cuckoos like crazy all day long (p.328)
Enjoy the world's best "deep-dish pizza" in Chicago, Illinois, USA (p.713)
Visit the "Venice of China"—a maze of canals wind through small whitewashed houses and weeping willows, this town is the romantic pulse of China (p.245)
Find out where international traders flock from around the world-gathering in April and October every year (p.237)
The best place to buy a carpet…and it's not in the Middle East (p.771)
The park that houses one of the finest Japanese Palaces surrounded by willows and eucalyptus groves, can be found in Brazil (p.113)
The world's best facelift holiday package—such good value, that the savings alone will pay for the cost of the trip…and comes complete with an escort in a private car (p.486)
A jazz nightclub in China? Absolutely…and if you tip the house band a couple of dollars they'll play your favourites all night long (p.242)
Use Our Best to Discover Your Best
Our best may not be your best. To some, the best means the most expensive, luxurious digs in town.
Like the Claridge's Hotel in London—where a Hungarian Quartet plays in the lobby (and have been for nearly a century), liveried attendants greet you at your door and dress-maids are available to help you choose what you'd like to wear for the evening.
To others, it's knowing the best place to go to get the inside scoop on the town and its major characters.
Like Eva's in Belize, where you get the cheapest food…and all the local gossip.
Woven throughout the newest edition of The World's Best, you'll find the fodder for creating your own personal best list.
Start with ours, and explore from there.
After all, most great adventures start with a tour guide of some sort.
Maybe it's a book. Or the local guy you meet when you sidle up to the bar and have a drink before you get settled in your hotel.
There's a strange balance—one that every experienced traveller understands—between embracing such a vast and diverse world, and breaking it down into cherished moments when it feels small…and uniquely your own.
Our first edition of The World's Best dates back to 1986—and was just 207 pages.
The world has changed so much since then.
The Berlin Wall came down, Eastern Europe opened its doors to foreign travellers, China joined the World Trade Organisation, sleepy Caribbean islands woke up, and Southeast Asia started coming to life one small, undeveloped country at a time.
The world seems to have gotten much bigger in the intervening years.
Yet, at the same time, it seems smaller and more accessible than ever.
I certainly wouldn't presume to call The World's Best complete.
Even 200 people don't have a handle on such a vast and glorious place.
But I can tell you that you will discover nooks and crannies that you never knew existed, experiences you'll want to have for yourself, and a wish-list longer than a child's at Christmas of places to go and things to do.
Take a look at this list…it is merely a smattering of this impressive, and slightly quirky, compilation of The World's Best:
Decadence in Germany—450 kinds of bread, 1,000 kinds of sausage, and 1,000 different cheeses await you at Berlin's equivalent of Harrod's (p.319)
The best afternoon tea in Dublin…in the building where the Irish constitution was drafted (p.410)
The most authentic castle stay in Scotland—no tartan drapes or armour anywhere (p.158)
The best ice cream in Boston, Massachusetts, USA (p.665)
The best place to be single in Japan (p. 474)
A cheap date in Portugal that won't make you look bad (p.541)
Where to stay in the heart of the Brazilian rainforest (p.118)
500-year-old mountain monasteries that will keep you pious in Bulgaria (p.165)
The easiest, most affordable way to take perfect close-up photos of the USA's awe-inspiring Statue of Liberty (p.644)
One of the world's greatest adventures on Papua New Guinea (p.590)
The best mint tea in Morocco—and why you must drink three glasses (p.51)
The prettiest town in the most maligned state in the U.S.—it's not Newark, but you're close! (p.665)
The best bathtub race in Vancouver (p.198)
Where to go to try Asia's most dangerous food—you need a license to prepare it or death is imminent! (p.465)
The Caribbean's best bird watching where you can expect to see no less than 136 species of birds (p.205)
The best way to explore Burma (p.587)
The best way to send a message from Nairobi (hint: it's not e-mail!) (p.6)
Find out all about America's favourite pastime at the Baseball Hall of Fame in Cooperstown, New York, USA (p.652)
Forgotten French towns—in Canada (p.189)
The best way to get a hangover in the Caribbean…and the best way to avoid one (p.211)
The best dive site in Malaysia (p.593)
Original William Spratling silver—and discounts of 25% to 50% on everything from silver candelabras to jewellery (p.488)
The world's best coloured gems (for 25% less than you'd find elsewhere) (p.119)
The most colourful festival in India—where you'll witness the symbolic destruction of evil (p.379)
The best bars in New Orleans, Louisiana, USA (p.683)
Seven hundred and fifty acres of botanical beauty you won't want to miss just northeast of Guangzhou (p.237)
The steamiest side trip in San Miguel (p.487)
The priciest café in Paris where an espresso will set you back 6 euros ($10) (p.283)
The best restaurant in Vientiane, Laos (p.585)
The saddest sight in Dallas (p.688)
The oldest living things on earth (p.227)
Rome's best-kept secret (a town with no tourists for miles!) (p.426)
A car-free Alsatian town that clings to a vine-covered hill—and has some of the best white wine in Europe (p.309)
The best roast beef in Texas (p.688)
Southeast Asia's hottest resort town (P.582)
Butterfly kisses in Mexico (p.487)
The magic of Madrid during Holy Week (p.625)
The famous seven pagodas guarded by statues of an elephant, a lion, and a bull in the ancient city of Mammallapuram (p.394)
The best roast beef in London (p. 131)
More Rembrandt than anywhere else in the world (p.317)
The door to the underworld (p.439)
The most frightening sights in Poland: from the Mausoleum to Struggle and Martyrdom to a less obvious manhole cover through which 5,300 insurgents escaped the sewer canal during the Warsaw uprising. (p.533)
The red-light district of Shanghai known as Blood Alley—with the best opium dens and brothels, even today (p.240)
The three best ways to spend a Sunday afternoon in London (p.126)
Beautiful bodies and the hottest nightlife on Portugal's southern coast (p.543 )
The world-famous opera house that was dubbed the "Operasaurus" by locals when it first opened (p.59)
The best "ghost walk" in the only genuinely haunted burial grounds in Scotland where thousands of 17th-century plague victims are buried beneath grassy slopes (p.157)
Ski with the stars in Austria—at the resort where tour groups are verboten (p.756)
Not for the faint-hearted: discover the most exotic market in China, where live animals (of all kinds!) await slaughter and organs you have never heard of are for sale (p.774)
When to give baksheesh, and when to say Emshee! while travelling in Egypt (p.47)
The place known as "the end of the world"—before the New World was discovered (p.544)
The best star-gazing, where every constellation in the sky is visible every night of the year (p.5)
The best cigar shop in the world—and it's not in Havana (p.298)
I could go on and on, and still only mention a fraction of what is contained in The World's Best.
It is truly a treat for the senses, and the imagination, that is not to be missed.
The Best Deal On The World's Best
I have to admit that I'm spoiled.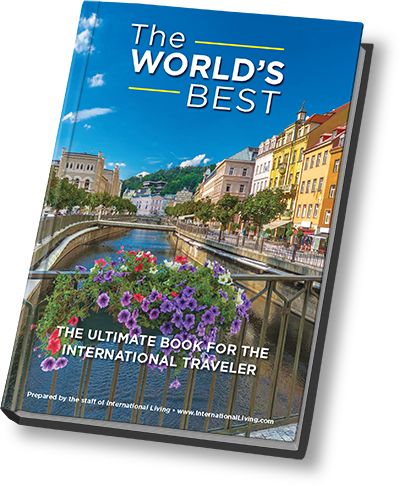 When I'm going somewhere—almost anywhere in the world—I have a Rolodex that points me to the nearest International Living country expert.
I am accustomed to getting the inside scoop on just about any place I want to go.
From the biggest and best attractions, to the little hole-in-the-wall dives that serve the best food and spark the most animated conversations.
You should enjoy that same privilege—the chance to go anywhere in the world you can imagine, and glimpse a little slice of life in that area before you jump on the plane.
If you also love to travel, I probably don't need to tell you how valuable that kind of access is to globetrotters like us.
When you have The World's Best, you can choose from romantic restaurants and hideaways around the globe and test out the right atmosphere to pop the big question before settling on one.
The World's Best provides you with an entire chapter of details on scenic drives…from Highway 1 on the West Coast of the U.S., past barking sea lions and secret beach access along the way…to the fairytale trail in Germany, past the homes of Rapunzel, Little Red Riding Hood and the rest of the Grimm Brothers gang…to the best route from Nairobi all the way to Nakuru, past the sites where the earliest traces of man were discovered.
Each of these little treasures alone is invaluable. If you order The World's Best today—while it's hot-off-the-presses—you'll pay a fraction of a cent for each of the thousands of bests we've assembled.
For just a one-time-only price of $59—less than you'd pay for dinner and a movie in any major Australian city—you can indulge in hours of global daydreaming and hopeful trip planning.
And, of course, if you're at all disappointed—which I can't imagine—feel free to send it back for a full refund within 30 days.
You've got nothing to lose…and so much to gain.
You won't find information like this anywhere else...at any price. To order, simply click on the link below and follow the instructions.
How To Hold The World In Your Hands
As you log thousands of miles and cross over rivers, valleys and oceans, the only thing you'll miss are the frequent flyer miles you'd accumulate if you had to pack your bags and hop on a plane, rather than merely turn the page to get from one place to the next.
It will likely be another 20 years before we undertake such a project again…most of us here at International Living are going to be too busy checking out each other's "best" recommendations. So I hope you won't delay and will reserve your copy now.
Hope to see you at the Aurora Borealis…sometime this decade.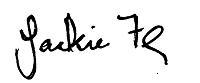 Jackie Flynn
Publisher, International Living Australia
P.S. Engaged? Browse The World's Best for a honeymoon destination.
Love to shop? Explore the entire section devoted to the world's best shopping.
Crave sports? Discover sporting destinations that may not make it onto your local sports channel…you might have to check them out for yourself.
Take a moment now and get your copy while this offer is still on the table.
I dare you to tell me you can't find anything here that piques your curiosity and gets your heart racing with excitement.
Care to take the challenge?