Easy-Going Retirees are
"Living The Dream"

in Today's THAILAND
On As Little As $1,485 A Month!
"The Land of Smiles" offers some of the world's most idyllic tropical islands and beaches, balmy year-round weather, an exotic culture, world-class cuisine and a thriving English-speaking expat community.
It's also provides a super-low cost-of-living with first-rate healthcare, boasts modern amenities galore and is teeming with lucrative expat business opportunities.
Here's Everything You Need To Know About What May Be "The World's EASIEST Place To Retire!"

Dear International Living Australia Reader,
"Nobody goes to Thailand just once…"
That's according to Michael Cullen, our overseas correspondent based in Hua Hin—a welcoming seaside resort on the Gulf of Thailand.
"Many people who come to Thailand have travelled extensively throughout the world," he continued, "but they always wind up coming back to Thailand. Again and again and again.
"It just keeps pulling them back in.
"And some, like me, wind up staying for good!"
So What Makes THAILAND Such A Magnetic Place For Travellers, Expats And Especially RETIREES?
It's not hard to understand why…
Few places in the world offer more amenities, more creature comforts, more conveniences and more money-saving benefits than today's Thailand.
It's just an easy place to live—plain and simple - even if English is your only language…and you don't speak one word of Thai!
In Thailand, it's almost as if everything around you is "conspiring" to make your life EASIER…and more EXCITING than EVER!
And you'll probably notice it from the moment you step off the plane.
The signs are in both English and Thai, so you'll never wonder where you are or where you need to go…
The air is warm and balmy 12 months a year, making it easy to decide what to wear each and every day.
And there's so much to do in Thailand once you're settled in, you'll be spoiled for choice!
You can explore Bangkok's floating markets…ride in a tuk-tuk…take a Thai cooking class…go jungle trekking up north…go ziplining through the jungles outside of Chiang Mai…explore the caves of Krabi…give an elephant a bath in the mountain town of Pai…visit the hill tribes of Northern Thailand…swim amongst whale sharks off the coast of Koh Tao…pamper yourself at a luxurious day spa in Koh Samui…
…plus countless more fun and exhilarating bucket list types of activities, including…
Taking a sunset sail on the Andaman Sea off the shores of Krabi on an elegant yacht, with live music on board…
Golfing on an 18-hole championship golf course in Koh Samui with troupes of curious monkeys watching you from the trees…
Hosting dinner parties at your ocean view home in Phuket with friends from a half-dozen different countries…
Learning how to cook Thai food in Chiang Mai from an expert chef…
Practicing yoga on a secluded beach on Koh Phangan at sunrise…
Not only will you never run out of fun and exciting things to do in Thailand…but as I'm about to show you, it's all seriously affordable.
You Get More Bang for Your Buck in Thailand
Than You Could Ever Hope for in Australia…
"To put it simply, I get more bang for my buck here than I could ever hope for in Australia," says Tony R. from Brisbane—now enjoying a rich retirement in Phuket—one of Thailand's most popular destinations.
Tony's biggest expense comes from his busy social life. But even with this included, his total monthly budget still works out to about $1,485.
"There are plenty of Aussies, as well as people from every other country on earth," Tony says.
With Thailand's super-low prices and everything else it's got going for it right now, it's little wonder that a whopping 32.6 million foreign tourists visited Thailand in 2016—making it the #1 most visited country in Southeast Asia…and ninth most visited country in the entire world.
And for ANY Aussie interested in enjoying an easy-going life where just about everything you could ever want is practically at your doorstep…
…making Thailand your new part-time or full-time home could be one of the best decisions you could ever make.
One Of The Most Welcoming
Expat And Retirement Havens
Once you're in Thailand and all settled in, you'll appreciate its many modern comforts, conveniences and incredibly welcoming atmosphere.
Take a walk down the street in the mornings and you'll likely be greeted with a smile just about everywhere you go.
You'll probably notice plenty of children laughing and playing, or perhaps heading to school on a weekday.
They may even try to practice their English with you with a simple "HELLO!!!" and a huge smile.
And while you're exploring your new surroundings, you'll marvel at all the wonderful aromas around you.
Thai food is to die for…and you'll find tasty and affordable options for sale at incredibly low prices just about everywhere you go. On the street…in restaurants…on the beach…at resorts…in food courts…at the ferry terminal…in open-air markets… EVERYWHERE!
(Make sure to try one of the local curries with rice the next time you go. A ubiquitous "street" dish like khao man gai (Thai chicken rice) with a bowl of tasty Thai broth will only set you back less than $2. And it's so good, you'll probably crave it every day once you taste it!)
You'll also appreciate how easy it is to get around from place to place, even if you don't have a car or motorbike.
Taxis, tuk-tuks and other forms of public transportation are easy to find in all of Thailand's most popular destinations. It's also pretty easy to use most public transportation in the "off-the-beaten-path" destinations, too!
And when it comes to comfort, you can rest assured you'll have immediate, "everywhere" access to just about everything you need to enjoy a comfortable "home away from home" lifestyle.
You'll have access to high-speed internet and 4G mobile data…satellite TV with hundreds of English-speaking channels…air-conditioned bungalows…the works!
And if you ever need a helping hand with anything, you'll be glad to know that friendly locals will usually be more than happy to help you out with just about anything you need.
In fact, you'll love just how at home the locals will make you feel.
Seriously, it's almost as if they're born with a hospitality gene!
Right Now, Your Aussie Dollars
Go a Long Way in Thailand…
Retire in Thailand and you can enjoy the best of all worlds.
For starters, you'll enjoy an amazingly low cost-of-living.
You know how expensive Australia is these days—$2,500 a month will barely cover your living costs, if you're lucky!
But in Thailand, $2,500 a month can provide you with a surprisingly comfortable lifestyle, including rent, meals (including dining out), utilities, entertainment, healthcare, transportation and even internal travel within Thailand.
Budget a little more, say, $3,500 a month, and you can add one trip per month to an exciting nearby locale like Malaysia, Cambodia or Vietnam…and still have money to spare.
Budget $4,500 a month or more and you'll be living like royalty! You could dine out for breakfast, lunch and dinner at seaside restaurants seven days a week…entertain friends and family…travel throughout Southeast Asia in first-class style…the works!
You'll also save heaps of money—thanks to Thailand's favourable exchange rate.
Right now, the Aussie dollar still goes a long way in Thailand.
And when you consider you can order a tasty local meal like green chicken curry with steamed white rice for just under $2.00 (50 baht), you'll quickly realise just how much more spending power you'll have once you arrive in Thailand.
And it's not just food that's cheap in Thailand…
You can rent a motorbike for the day and go exploring the Thai cities, towns and countryside for just $9.80 (250 baht). And it'll only cost you $4.70 (120 baht) to fill your tank with petrol!
If you want to explore Thailand a bit, internal flights are cheap, too. For example, you can fly from Bangkok to Chiang Mai for as little as $36 (920 baht).
Rent is also super cheap. Check out these recent deals:
BANGKOK: A fully furnished two-bedroom, 65-square-metre unit in central Bangkok with access to a gym and swimming pool surrounded by beautiful tropical landscaping.
Just $589/month.
CHIANG MAI: A fully-furnished three-bedroom, three-bathroom two-storey house with a living room, kitchen and a garage.
Just $393/month.
PHUKET: A fully-furnished, spacious one-bedroom apartment with free Pay TV, access to a pool, and just minutes from the beach
Just $510/month.
HUA HIN: A fully-furnished one bedroom unit close to the sea and with its own private beach! The air-conditioned unit includes a flat-screen TV and is just 5-10 minutes from all the main attractions and seafood restaurants of Hua Hin.
Just $510/month.
KOH SAMUI: A fully furnished one-bedroom house with a kitchen, free Pay TV, free high-speed internet access, access to a large swimming pool, free parking and an on-site restaurant. The house is only a 10-minute walk from Koh Samui's popular Fisherman's Village.
Just $647/month.
It's clear just how much more affordable Thailand is than Australia these days!
You'll also have easy access all the creature comforts of home in Thailand.
Just about everything you need to enjoy a comfortable life in Australia, you can find in Thailand, too.
Miss food from home? No worries!
In Thailand's larger towns and cities (and even on several of its islands like Koh Samui and Koh Phangan) you can find modern grocery stores stocked with plenty of imported Western goods like ketchup, steak sauce, barbecue sauce, olive oil, imported cheeses and wines, and more of your favourite foods from home.
Some specialty stores even sell Vegemite!
If you love gadgets and electronics, you'll be glad to know it's easy to find stores throughout Thailand that sell the latest mobile phones, tablets, laptops, 4K TVs and more. Prices for tech gear are attractive, too.
Thailand's Pleasant, Tropical Climate…
Year-Round!
If you don't like cold weather (even when it dips below 15C!) you'll be glad to know it never really gets cold in Thailand, unless you're way up north in the mountains during the winter months.
Otherwise, you'll almost never need to wear a jumper—even late at night.
Casual warm weather clothing will usually be just fine almost any day of the year.
NOTE: It does get quite rainy in Thailand late in the year—especially in October and November. So if you're in Thailand at that time of year, you'll definitely want a rain jacket or a poncho (and an umbrella, too) when you're going from place to place. That said, there are still plenty of sunny days during the quieter, wet season months. And barely any crowds!
You've also got Thailand's world-renowned tropical islands and beaches!
Thailand boasts over 2,000 miles of coastline…and hundreds of gorgeous tropical islands.
And these amazing islands—including Phuket, Koh Samui, Koh Tao, Koh
Phangan, Koh Lanta, Koh Lipe, Koh Chang and more…boast white-sand beaches, thousands of swaying coconut palms, and warm, year-round waters perfect for swimming, snorkelling, scuba-diving and other water sports.
You'll love the colours of the sea here in Thailand. The aquamarine waters almost look luminescent in places.
And at night-time, depending on where you are in Thailand, you can witness the phosphorescent plankton light up the water. You'll never forget it once you see it!
You'll wonder at Thailand's exotic jungle flora and fauna…
Thailand is located in the tropics of Southeast Asia.
And it's home to some of the most exotic jungles and wildlife in the entire world.
Here you'll find over 1,000 species of orchid…264 mammal species including wild tigers and elephants…over 900 bird species…and countless marine creatures including whale sharks…pink dolphins…dugongs (sea cows) and hawksbill turtles…to name just a few!
It's a nature lover's dream.
And you'll have plenty of opportunities to take amazing photos of exotic wildlife in Thailand.
Just watch out for the long-tailed macaques. These ubiquitous monkeys can be a bit naughty in some areas. Especially if you have food in your bag!
And you can experience Thailand's ancient history, culture and traditions.
If you're looking for an authentic, exotic overseas experience worlds away from Australia's everyday lifestyle, you'll find Thailand is tough to beat.
Here in Thailand, you can explore awe-inspiring, centuries-old gilded temples…
You can visit expansive "floating" markets where you can buy fresh fruits, vegetables and other goods straight from a boat in the canals…
You can witness the majesty of the Loi Krathong festival with its thousands of flying lanterns into the night-time skies…
You can watch two Muay Thai boxers give it their all in a Muay Thai boxing match—billed as "the world's most devastating martial art"…
…and so much more.
And the best part is, when you're ready to enjoy some "home style" entertainment after you've gone exploring Thailand's many wonders, you won't have to look far to find plenty of like-minded friends!
You'll Always Have Good Company
in Thailand—Thanks to its Thriving

Community of English-Speaking Expats

It's estimated that several hundred thousand expats (and perhaps even more—nobody really knows the exact amount) call Thailand home for at least part of the year.

Some expats live here full time.

Some split their time between Thailand and elsewhere.

And others only spend a few months or so in Thailand each year.

The bottom line is, there are always a huge amount of English-speaking expats out and about in Thailand.

And because it's such a welcoming "social" kind of place, it's surprisingly easy to make like-minded friends from all over the world—even if you feel you're introverted!

You'll also find that the expat community here is very tightly-knit…and there are always new and fun activities popping up that you can join in on.

And you'll definitely love the food in Thailand!

There are as many different Thai curries alone as there are days of the year.

Here you can tuck into a bowl of freshly-prepared street-side green curry chicken with fresh local vegetables and steamed white rice for just under $2…

You can watch the sunset at a local surfside seafood restaurant and dine on grilled mackerel with a baked potato and mixed green salad for as little as $5…

Or, you can go all-out and order a steamed lobster the size of your forearm with all the trimmings for just $30!

And that's just Thai cuisine!

Since Thailand has got such a large expat population, you can enjoy cuisine from all over the world here.

So if you're every dying for, say, a proper Sunday roast in Thailand, chances are you won't have to go far to find a good one!
Live Or Retire In Thailand And You Could Have
Every Aspect Of Your Life Completely Sorted
Once you make Thailand your new part-time or full-time home, you'll be able to…
Stay in touch with friends and family with ease—thanks to Thailand's advanced tech infrastructure…
No need to worry if you'll get reliable internet access or mobile phone coverage while you're in Thailand.
Even fibre-optic internet is becoming much more widely available in Thailand…even on the smaller islands.
And mobile phone coverage is solid, too—with 3G widely prevalent—and even 4G in many places now.
Plus, you'll find that all the operators speak VERY good English when you set up your service…and it's really easy to do…so you can be "connected" from the very first day you arrive.
You'll also have no worries about gaining access to high-quality, affordable healthcare in Thailand.
In Thailand's big cities, you'll find modern hospitals with plenty of English-speaking medical professionals.
Many of them have trained in Western countries like the U.S., Canada, the U.K., and Australia.
What's more, prices here are much more affordable than they are back home.
A consultation with an English-speaking doctor, including treatment and medications (which is usually dispensed by a pharmacist on staff at the clinic) typically costs no more than $20…
Getting a regular dental check-up and teeth cleaning costs as little as $30…
An overnight stay at a first-rate hospital costs as little as $70…
Think of how much money you'll save simply by taking part of your healthcare planning overseas to Thailand!
Thailand's Most Attractive
Money-Saving Visa—For Over 50s Only!
If you're over 50, and you want to stay in Thailand full-time, then you'll want to take a close look at Thailand's attractive retirement visa for expats.
Known as the Non-Immigrant OA—Long-Stay Visa, this visa allows you to stay in Thailand legally for one year…with single or multiple entries…and unlimited renewals.
All you need to do to qualify is be 50 years of age or over and show 800,000 baht (about $31,500) in the bank, a monthly income of at least $2,550 or a combination of bank account and income totalling $31,400.
Many, many expats take advantage of this attractive visa once they turn 50.
It's a great way to enjoy Thailand's super-low cost of living (and everything else Thailand has to offer) without worrying about your visa status.
On top of all this, you'll love the legendary friendliness of the Thai people.
It's impossible to talk about Thailand without mentioning how friendly the locals are. It really seems like hospitality is in their blood.
They'll often go far, FAR out of their way just to make sure you have what you need.
Whether it's finding directions to a restaurant you'll be meeting friends at…helping you install digital TV in your new home…or teaching you to learn a few new words in Thai…you'll be amazed at how welcoming and friendly the Thai people are.
And don't be surprised if many of them become very close friends with you…and remember you by your first name.
Even if you come back years later!
So How Do You Find Out If
Thailand Is Right For YOU?
For years now, Thailand has been one of the most popular tourist destinations for Australians.
In 2015, almost 5.5 million Australians visited Thailand—a massive 194% increase over the past decade.
They come for Thailand's exotic culture, history and traditions…its world-class cuisine…and its welcoming, friendly people.
They also come, of course, for Thailand's world-famous islands and beaches—on both the Andaman Sea side and on the Gulf of Thailand.
And then, Thailand's cooler, mountainous country up north in cities and towns like Chiang Rai, Pai and Mae Hong Son offer a pleasant alternative to the laid-back beach living.
Up north, you can explore numerous national parks, bubbling hot springs, pine forests and even visit a rescue and rehabilitation centre for elephants, where you can bathe and feed bananas to friendly 5,000 kilo Asian elephants!
Some visitors—like our friend Tony R. from Brisbane now living the good life in Phuket on just $1,485 a month—wind up staying for good!
They once dreamed of retiring to a place with spectacular scenery, pleasant year-round weather and a much more agreeable cost-of-living than back in Australia.
Thailand delivers on all that…and a whole lot more!
But even though Thailand is such a friendly, welcoming, easy country to retire in, it's still a foreign country.
And if you want to retire there legally and make sure your entire life is sorted, you'll have to do a few things right from the start.
You'll need to:
Obtain the right visa…
Ensure you have all your healthcare needs covered…
Decide where in Thailand you want to live…
Figure out if you want to live in Thailand full-time or part-time…
Plus several more important decisions—like whether you'll rent or buy…what you plan to do with your free time…how you'll finance your new life…and more…
You'll want to decide whether or not to ship your household goods…whether you should buy a car or motorbike or not…what you'll do about insurance and taxes…how you'll manage your banking and financial needs…
You'll want to understand the rules for importing your pets to Thailand…if any vaccinations are needed…and so forth…
You see, even though Thailand is one of the easiest places on the planet to retire to, there are many things to consider and plan for.
Your Eyes and Ears on the Ground in Thailand
With something this important, you need reliable, up-to-date information you can count on, from a dependable, well-qualified resource.
That's where our friend Michael Cullen comes in, our eye and ears on the ground in Thailand.
For two years, Michael has been one of International Living Australia's most important contacts in Thailand.
He moved to Thailand in 2015 with his wife, Vivien.
And just like almost every other Aussie who moves to Thailand, he loves the much lower cost-of-living.
"Our cost of living budget is about a quarter to a third of what we spent in Australia," says Michael.
It's been Michael's job to travel Thailand from top to bottom on our readers behalf.
He's constantly on the lookout for the best places in Thailand to live, to retire and to enjoy life to the fullest.
He has contacts in every area of Thailand and he's on top of all the technical and legal matters you need to know about.
He knows all the ins-and-outs of the the processes and requirements for buying, renting, getting visas and residency, building, renovating, furnishing a home, moving your household goods, buying a car, bringing your pets, and more.
He knows exactly how much it costs to live in the many different communities of Thailand.
He has a number of insider tips and strategies to help you save both time and money when you visit or live in Thailand yourself—based on his own experiences and the experiences of dozens and dozens of expats he's interviewed over the past two years and running.
And if you think Thailand may be the place for you, Michael is committed to sharing his real-world, on-the-ground insights with you.
Your very best course of action, of course, would be to go to Thailand in person and spend a couple of months exploring the country with Michael.
It would take at least that long for him to show you, firsthand, everything he's seen and everything he knows that can help you streamline your own move to Thailand.
Spending time one-on-one with Michael would certainly "fast track" your research.
No doubt about it.
But, of course, that isn't a practical option.
It's doubtful you have the time or the inclination to spend months on the road right now.
Not only that, but think how much it would cost!
Even though Thailand is a budget traveller's paradise, you'd probably rack up thousands of dollars in expenses.
So we asked Michael to do something we've never done before.
We asked him to create a personalised online virtual retirement tour of Thailand.
It's a way for you to gain access to Michael's incredibly comprehensive and truly rich depth of knowledge and get plugged in to everything you need to know about living and retiring in today's Thailand.
Think of it as a way for you to see for yourself, from the comfort of your own home or office, all that Thailand has to offer you.
It's an easy, streamlined, and reliable way to get you from where you are now to a place in Thailand that's right for you.
This is Your Invitation To Go On A
"Grand Tour" Of Thailand With Michael Cullen
No matter how many times you've been there…
No matter how many books you've read…
No matter how much online research you've done…
…what you don't know about Thailand may surprise you.
And over the last several years, Michael has been asked to take on the most in-depth Thailand project International Living Australia has ever created.
He's been challenged to dig deep…to round up all his insider intelligence…and to assemble all this valuable information in one place…
And now we bring to you the final results—in a brand-new, jam-packed resource we call Thailand 101: Your Blueprint For The Land Of Smiles.
This has been no small undertaking.
Even though Thailand is a relatively small country, it's large on opportunity.
In effect, Michael has been working on this project for over two years—the entire time he's been in Thailand.
And I don't know anyone better suited for this kind of challenge.
Michael is one of the most diligent researchers I know.
He digs deep.
He answers the questions you don't even know to ask.
Best of all, he makes sure the facts are reliable and verifiable.
You can be certain that what Michael tells you is correct and current…and that's probably what's most important of all.
After all…
Things change…
Rules are adjusted…
Laws are reformed…
New policies are instituted…
And you can't always rely on what you read online in expat forums or on the internet.
You need a trusted resource.
And that's Michael.
What he's put together is not just groundbreaking, it's almost overwhelming in its scope.
It's a complete resource reference of everything you need to know about moving to, living in and retiring in Thailand.
If you can name it, think of it or wonder about it, Michael has you covered.
Every issue is addressed, every challenge is covered, and every question is answered.
Thailand 101: Your Blueprint For The Land Of Smiles puts a huge amount of information, recommendations, tips, advice, and insights about living, travelling and retiring in Thailand in one place…
…in living colour…on video!
It's the next-best thing to actually exploring the country with Michael in person.
And it's the best way I know to not just tell you about all Thailand has to offer…
…but to show you…so you can see it with your own eyes, from the comfort of your home.
Are You Ready To Discover How Easy AND Affordable It Can Be To Live Or Retire In Thailand?
There's no better resource than Thailand 101: Your Blueprint For The Land Of Smiles.
It's not like anything else International Living Australia has ever produced about this country, or any other, for that matter.
As I mentioned, Michael Cullen has been working on this for over two years now.
He's literally spent thousands of hours on the ground in Thailand, doing research, collecting data, conducting interviews, and more…
Not long ago, he went into the studio to assemble a comprehensive series of 13 professional videos to bring his research to life.
You can see, feel, and almost touch and smell Thailand.
You'll travel along with Michael as he introduces you to five retirement havens in Thailand which make for easy and affordable expat living.
You'll also discover the little-known areas Michael believes are well worth your attention right now.
By the way, this is no static resource.
It's not a manual…
It's not a website…
And it's not a conference…
Think of it more as a high-level virtual conference, but much better…
And you'll get to see and hear directly from Michael, our man on the ground in Thailand.
He's one of the savviest, most trusted, most reliable, and most hardworking Thailand experts we know.
And in Thailand 101: Your Blueprint For The Land Of Smiles, Michael takes you by the hand and not only introduces you to his Thailand, but he gives you the tools to make it your Thailand.
Along with the five in-depth "destination" videos, Michael has produced eight more "need-to-know" videos with advice about Thailand that will save you time, headaches and boatloads of money.
Here's Just Some Of What's Covered In Thailand 101: Your Blueprint For The Land Of Smiles
You'll discover…
Your best visa and residence options in Thailand. There are several you might qualify for, but which is the best for your personal circumstances? Video #8 in the series is devoted to this topic and ensures that you don't make any costly mistakes.
Your best real estate options in Thailand. Owning property in Thailand can be a bit tricky if you don't have someone to guide you. And for many people, renting a property makes much better sense. Michael covers all your real estate options in Video #10 so you'll know which option is best for you.
Your best healthcare options in Thailand. Michael and his wife have lots of experience obtaining quality healthcare in Thailand. In Video #6, he shares his experiences and gives you the full rundown on the options that make the most sense for you, including how to qualify and what the costs are. (You'll be pleasantly surprised at the low cost of excellent medical and dental care in Thailand.)
You'll also discover:
Which destinations in Thailand are worth taking a close look at right now. You'll get an overview of each destination, the pros and cons of each one, and how much you can expect to spend (and save!) on everyday items in each place.
How to make your move to Thailand as easy and hassle-free as possible. Michael shares with you everything he learned when he made his "big move" to Thailand from Australia. Learn how Michael did it and you will avoid any possible "pitfalls" when it's your time to move!
How to plan your own "scouting trip" to Thailand. Michael will show you how you can plan and prepare for a trip to Thailand so you can really get the most out of your next visit. He even includes suggested itineraries to Thailand's most attractive and affordable expat and retirement destinations, so you'll know exactly where to go and what to look for, before you even get on the plane!
How to save money in Thailand. Saving money in Thailand isn't just about shopping at open-air markets or eating local-style Thai food every day (which is absolutely delicious, for the record). It has more to do with picking the right place to settle…choosing the right kind of property to live in…and so on. Michael offers all his best money-saving tips so you can enjoy the very best of Thailand…without spending more than you need to.
And much, much more!
In Thailand 101: Your Blueprint For The Land Of Smiles, you'll find out what's true and what's not.
The internet offers loads of information about Thailand.
Websites and chat groups are full of misinformation, so it's important to get the most up-to-date information straight from someone who knows Thailand inside and out.
Michael Cullen lives and breathes Thailand each and every day. He offers you experienced perspective, valuable judgment and on-the-ground guidance that will save you time, money and frustration when you head to Thailand yourself.
You can be sure you'll be completely and reliably "in-the-know."
Best of all, he even provides a step-by-step Action Plan. If you've wondered or worried about how you might ever pull it all off…making a move of this type…worry no more.
If you're thinking of retiring to Thailand…or spending some extended time there…maybe opening a business or just reinventing your life, this Thailand Blueprint is your very best resource.
It's the fastest, most efficient, most cost-effective way to get you quickly ramped up so you can get from where you are now to the idyllic spot in Thailand that's right for you.
And when you're ready to actually visit Thailand for yourself, you'll be able to use your time wisely, because in essence, you'll have already been there, with Michael as your guide.
You'll know where to go, who to contact and the questions you'll need to ask.
If you wanted to track down all the intelligence we hand over in this Thailand Blueprint, you could probably do that.
But it would take an investment of many months…years, in fact. That's how long Michael has been at it.
And you'd have to pull thousands of dollars out of your pocket.
In the past two-plus years that Michael has been travelling the length and breadth of Thailand he's racked up thousands of dollars in expenses for airfares, bus fares, car rentals, fuel and tolls, along with overnight hotel stays, meals, and more.
He's spent hours upon hours—over two years—interviewing solicitors and healthcare professionals, real estate experts, insurance and shipping experts, and more—including hundreds of expats in every corner of the country.
To be honest, you'd have a very difficult time tracking down all these people and accumulating all the intelligence Michael has amassed on your own.
My point is: This Thailand Blueprint delivers insider access.
It hands you on-the-ground solutions that would cost you a minimum of $10,000 to gather on your own.
Probably more like twice that. (Michael has spent far more than that on this project already.)
But you don't have to spend that kind of money.
Not even close.
Michael has done all the work for you.
He's just finished all the video editing and he's just saved you a ton of money.
We could reasonably ask $1,000 for this program, which reveals insider tips and secrets about Thailand you won't find anyplace else.
But we won't charge you $1,000 for access, even though it's worth every penny.
The full price for this comprehensive program is $699.
But when you order now you can get the Thailand 101: Your Blueprint For The Land Of Smiles for just $699 $349.
You save more than 50 percent right now.
Plus, there's more that comes with it…
You Also Get 7 Comprehensive Special Reports and a Complete Resource Rolodex. These Are Not Available Anywhere Else.
As Michael was recording the videos he created for the Thailand 101: Your Blueprint For The Land Of Smiles, he discovered there were a few topics that required some extra lengthy reporting…too much to record on video.
So those have been assembled in a series of special reports delivered electronically to get them into your hands as quickly as possible.
This is the kind of information you'll definitely want at hand as you prepare for your move to Thailand.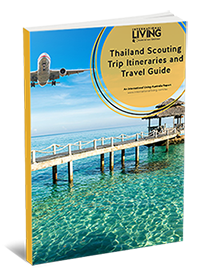 Special Report #1: Thailand Scouting Trip Itineraries and Travel Guide. If you've got one week, two weeks, a month or more to spend in Thailand, you'll want this guide.
Michael and his Thailand team have planned all the details for you…from how to travel around to where to stay—hotels, short-term rentals and much more.
You'll also discover where to play…dine…and even the popular hangouts where you can meet expats who may some day be your neighbours.
Live links to websites and contact information is all there for your easy access.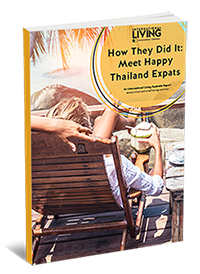 Special Report #2: How They Did It: Meet Happy Thailand Expats. Speaking of expats, sometimes it just takes a little motivation. That's exactly what you'll get in this special report.
You'll meet expats in the most popular expat and retirement areas of Thailand, all living their dream lives under the tropical sun.
They explain exactly how they did it (and how you can, too) and they share personal details you couldn't get unless you quizzed them yourself.
Find out what they do for healthcare, how much they spend on a daily and monthly basis, what they do in their free time, and much, much more.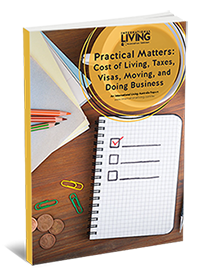 Special Report #3: Practical Matters: Taxes, Cost of Living, Residence, Moving Your Household Goods and Pets, and Doing Business. Yes, Michael covers all this in the video series, but as you can see from the lengthy title, this 23-page special report digs deep.
You'll get comprehensive sample budgets and money-saving tips, a detailed tax primer, a full explanation of various visa options and a complete legal resource rolodex.
If you plan to move with pets or children or you're thinking of starting your dream business in Thailand, do not leave home without this special report.
Nowhere else can you get this kind of valuable, all-inclusive information.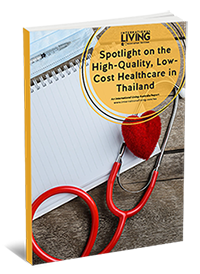 Special Report #4: Spotlight on the High-Quality, Low-Cost Medical Care in Thailand. This special report explains the differences of Thailand's public and private healthcare systems and can help you make an educated decision about what to do for your personal healthcare needs when you move to Thailand.
There's also a rundown of the best private hospitals in the country and a list of some of the best local insurance providers, with full contact information.
There's even a list of questions to ask about insurance policies you may be considering and a tutorial on how to find the best doctor for your personal needs.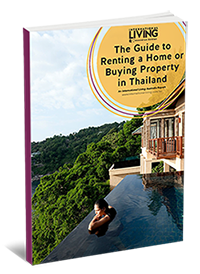 Special Report #5: The Guide to Renting a Home or Buying Property in Thailand. When you move to Thailand, you'll need a place to live.
And whether you rent or buy, that means contracts.
Word to the Wise: Do not sign a rental or purchase contract without first reading this crucial information.
Everything is covered—from typical costs and how to find a rental to what to look for in a reliable real estate agent, where to get title insurance, the various title structures, the correct process for registering a deed and much more.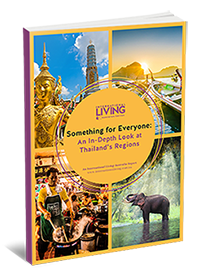 Special Report #6: Something for Everyone: An In-Depth Look at Thailand's Regions. If you want insider information about areas of Thailand that offer a combination of livability, affordability, beauty and convenience, you'll find it within the 32 pages of this special report.
All the "personalities" of these locales are sliced and diced for you. You're sure to find a hidden gem that's perfect for you.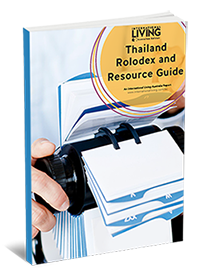 AND Special Report #7: Your Thailand Rolodex and Resource Guide. This is another document you won't want to leave home without.
You'll find pages of resources that you can rely on to help streamline your scouting trip and your move to Thailand. Websites, email addresses, phone numbers, costs for services, it's all there.
From accommodation and restaurants to airlines and shuttle services…to solicitor, healthcare providers, moving/shipping and real estate contacts, language schools and much more.
We've even included handy travel apps you can load on your phone or tablet to make navigating your way around Thailand as easy and inexpensive as possible.
All You Need to Do Now is Place Your Order
As you know, there's only so much you can absorb when you're reading about and researching a place. You do a "Google search" and tens of thousands of links come up.
It's so hard to know whose opinion to trust. And the sheer volume of information can be overwhelming.
But that's what makes this Thailand Blueprint so special…and so useful.
Michael Cullen shares his real-world insights directly with you via video. He cuts right to the chase, right there in living colour.
And he answers every question you have about Thailand.
I guarantee it.
Our Rock-Solid, Triple Guarantee
Means You're Under No Obligation
Guarantee # 1: I guarantee this Thailand Blueprint will help you find the perfect Thailand lifestyle that's right for you.
A place where you can live better than ever…stretch your retirement dollars…and have the time and funds to travel, relax, and enjoy life…
Guarantee # 2: I guarantee it will deliver the real-world solutions you need to get from where you are now to where you want to be, so that in just a handful of months, you have all the knowledge you need to get your "boots on the ground" in a part of Thailand you love.
But if you feel the solutions we offer aren't for you, we'll give you a full refund within 30 days.
Guarantee # 3: Should you decide to ask for a refund, you've got a full 30 days to do it.
If you don't feel that Thailand 101: Your Blueprint For The Land Of Smiles can help you to a new life in Thailand, just let us know within 30 days and we'll refund every cent.
That's how confident we are in the depth and breadth of information this Blueprint provides.
The friendliness of the Thai people…the easygoing, laidback lifestyle…and with the modern pleasures and amenities now available and so affordable…
All this and more makes Thailand hard to resist.
The good news, though, is that it's all within your grasp.
You don't need millions in the bank to capitalise on the opportunities in Thailand—one of the best-value retirement options you'll find.
And it's got so much to offer.
In Thailand, you can have the life you've been dreaming of. You can have it all…and on a monthly budget of $1,750 or less.
If you're looking for a tranquil place to live…that will welcome you with open arms…where you can actually afford top-quality healthcare…have access to farm-fresh, healthy food…and a great year-round climate…
On the beach or in the mountains…where you can live well for $21,000 a year or less…you'll find all that and more in Thailand.
And in Thailand 101: Your Blueprint For The Land Of Smiles, Michael Cullen shows you exactly how to make it happen…how you can settle into a far better, more affordable, healthier life and do it seamlessly, enjoyably and confidently…
Think about it: A handful of months from now, you could be sitting on your own terrace, a hot cup of coffee or a frosty, delicious drink in hand, watching the sun set over the shimmering aquamarine waters of the Andaman Sea or the Gulf of Thailand…
I hope you'll let us show you how…just click below now and we'll get you started.
Sincerely,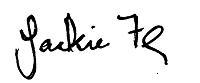 Jackie Flynn,
Publisher, International Living Australia
P.S. If you have any doubt that Thailand offers the very best lifestyle at a very affordable price, your mind will definitely be changed after you've sifted through the 13 professional videos, the seven comprehensive special reports, including the hefty resource rolodex that makes up Thailand 101: Your Blueprint For The Land Of Smiles.
If you've always loved the idea of retiring in real comfort, where you don't have to worry about rising healthcare and everyday costs.
Then I encourage you to take a look at Thailand 101: Your Blueprint For The Land Of Smiles. It was created with you in mind.
Follow the blueprint IL Thailand Correspondant, Michael Cullen has created for you. Let him introduce you to the special places he's discovered. Let him share his expert insights with you and help you shave months—even years—off your learning curve.
Thailand 101: Your Blueprint For The Land Of Smiles is like taking a whirlwind lifestyle tour of Thailand. Only instead of paying thousands of dollars for the travel fees and expert advice, we hand it all to you right there in the comfort of your own home for just a one-time payment of $699 $349 when you order your Thailand 101: Your Blueprint For The Land Of Smiles now.
Remember, you have our 100% 30-day Money-Back Guarantee.