You look out your window, past your gardener, who is busily pruning the lemon, cherry, and fig trees… amidst the splendour of gardenias, hibiscus, and hollyhocks.

The sky is clear blue. The sea is a deeper blue, sparkling with sunlight.

A gentle breeze comes drifting in from the ocean, clean and refreshing, as your maid brings you breakfast in bed.

For a moment, you think you have died and gone to heaven.

But this paradise is real. And affordable. In fact, it costs only half as much to live this dream lifestyle… as it would to stay in your own home!
Dear Friend,
Today I'm going to show you how you can ditch the stresses of everyday living… grab control of your life… and head overseas on the adventure of a lifetime…
… For LESS money than it costs you to live in Australia.
In this letter I'll introduce you to a handful of paradise destinations around the world that are cheaper… healthier… safer… freer… than you ever thought possible.
Countries with all the amenities you're used to… places where you can live legally and safely… where real estate is dirt cheap, health care is either free or very affordable, and English is spoken…
If you've ever dreamed of a luxury retirement in the sunshine—keep reading.
I'm about to show you how you can do it—and how a group of Australians just like you are living this dream right now.
Many of them live in beautiful beach front villas. Others live in exclusive gated communities. Some live in luxury apartments in some of the best and most vibrant cities on the planet.
And here's the REALLY interesting part:
Not only are these people living an adventurous, carefree life… not only are they broadening their horizons in some of the most amazing locations on the planet…
… They're spending LESS MONEY than you right now on housing, utilities, groceries, eating out, healthcare, travel and having fun.
In the next few minutes I want to ask:
Why Not YOU?
You're about to learn that this kind of luxury lifestyle isn't just for the rich and famous. I'll show you how you can comfortably afford it, how easy it is to start your new life overseas and what you need to do this year to kick it all off.
Now you may have dismissed the idea of retiring overseas as too complicated… too risky… or just too unknown.
Well, prepare to be pleasantly surprised.
What you once thought of as a radical idea—isn't radical at all.
To prove it to you, I'd like to send you a FREE copy of a unique—and invaluable—report.
It's called How to Retire in Paradise From $40 a Day. And it tells you about the best places in the world for retirement living.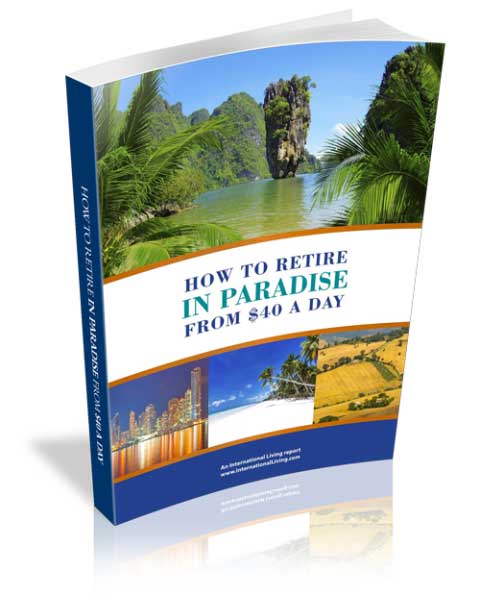 In one of the countries detailed in this report, you'll find the perfect combination of climate, culture, and affordability.
If you dream of living in a place surrounded by lush green valleys and mountains, with a near-perfect climate, but with all the amenities an expat could ever need, then this is the place for you.
Perhaps you'd prefer life on one of this country's magical islands… Stunning sunsets, sweet-smelling flowers, and panoramic views of the ocean…
Or maybe you'd like to look out your window at the hustle and bustle of the world's oldest Chinatown, settled in 1594…
Whatever you want, this place has it all… and with a cost of living that will blow your mind.
Get this: you can rent a luxury one-bedroom apartment here for as little as $302 a month, and have a maid clean your place, twice a week, for less than 20 bucks a week.
In this place, you'll find world-class restaurants that serve mouth-watering meals, where you'll be hard-pressed to pay more than $18 for dinner… for two.
Health care here is also affordable. Aussie expat Paul went to one of this country's best hospitals and paid just $37 for a dermatological surgery.
He says 'I thought it would be more like $500 to $600.'
Full health insurance will put you back $14 a month—for you AND your partner. Think for a second about what you're currently paying your healthcare provider every month…
In short, paradise DOES exist… where $1,000 a month—for a couple—will buy you a comfortable home in a beautiful setting, pay for your food and utilities, entertainment, a housekeeper… and even leave you with money left over for shopping… AND trips back to Australia!
Now, I know that might sound

way too good to be true…

But keep reading.

In a moment, I'll show you how to get details on this and other retirement edens around the world. It's all included in a valuable report, called How to Retire in Paradise from $40 a Day.

If you've ever thought of living overseas… or of owning a second home abroad… this report can turn your dreams into reality.

And it's yours for FREE simply for taking a look at INTERNATIONAL LIVING AUSTRALIA…

… our magazine will help you discover and benefit from the many exciting opportunities to live, work and retire, the wider world has to offer.

INTERNATIONAL LIVING AUSTRALIA will introduce you to…

… Parasailing in Thailand… bungee jumping in New Zealand… bicycle tours in Britain and France.

… first-class travel opportunities for less than half the usual fare (it's all a matter of understanding the angles used by savvy travellers the world over).

… you'll learn about secluded hideaways in Bali… castles for sale in Ireland… villas on undiscovered islands in the South Pacific… affordable ways to travel in the world's most expensive cities, including London, Paris, Tokyo, and New York.

No other magazine covers the world for Aussie explorers like INTERNATIONAL LIVING AUSTRALIA

It brings the entire world, with all of its rich, rewarding, exciting opportunities, to your inbox every month.

And these are opportunities you can put to use immediately. After reading an article in INTERNATIONAL LIVING AUSTRALIA, you can pick up the phone and arrange to…

… travel to exotic, foreign lands… learn new languages… invest in booming overseas stocks … profit from foreign bank accounts… start your own international business… get a job overseas… retire to a tropical paradise… buy a piece of prime real estate in the world's few remaining cheap property markets…

… these and many more exciting opportunities are available to you every month in the pages of INTERNATIONAL LIVING AUSTRALIA.
A different world…
You read about one side of the world in your daily paper; you see it on TV newscasts. Murders. Wars. Aeroplane crashes. Politics.
But there is another side of the world… one you can't find out about by reading the paper, certainly not by watching TV.
It is a world of delightful opportunities… opportunities for fun… pleasure… financial security and profits… romantic discoveries… adventure…
It is a world full of things you can do to make your life more fun, more adventurous—and more profitable.
You can…
Sail away to the islands of the South Pacific… chartering a boat can be an affordable, as well as exciting and luxurious, family holiday.
… Spend a summer Island-hopping in Thailand… or actually buy your own apartment in Bali… do it right and the property will almost pay for itself.
… Make big profits on international stocks and bonds… overseas investments in fast-growing countries offer high returns as well as diversification.
This world of international opportunities

is available to anyone… not just

the rich and famous

That's one of the major reasons I decided to publish an Australian edition of the world-renowned International Living magazine…

I want to show you how Australians can benefit from the rich rewards of an international, jet-set lifestyle without spending a fortune.

See, way back in 1979, a little newsletter out of Baltimore in the United States sparked a big idea… you can live better, for less, overseas.

When the U.S. edition of International Living suggested in that first newsletter that an exotic life in a tropical paradise wasn't just for the rich and famous… that you can do it now for less money than you currently live on… it was a radical idea.

For many people, it still is.

Not because it's difficult (it isn't), or requires lots of money (it doesn't), or hasn't been done before (it has, thousands of times).

The idea of living a happier, more fulfilling, more prosperous life offshore still strikes many people as a radical idea simply because they don't have the whole story.

Like most people, they rely on the mainstream media to tell them what the world is like. Open the pages of the Sydney Morning Herald or turn on Nine News and you get the standard fare… people getting beaten up for no reason, boat-people, bush fires. Bad news is good news for the mainstream media. If it bleeds, it leads.

With input like that, it's a wonder anyone goes outdoors, much less overseas!

At INTERNATIONAL LIVING AUSTRALIA, we take a different approach.

Australia still clings to the reputation of being the Lucky Country.

And it's true. This is an amazing country. Australians can count themselves fortunate in heaps of ways.

But your big move may be just round the corner.

Maybe, like a growing number of Australians, you are starting to look to the horizon, dreaming of a better, easier life.

The magazine, The Economist reports:

'The cost of living in Sydney, Australia, is close to 50 per cent higher than in New York, according to a new survey that illustrates the painful side effects for residents living through a once-in-a-century mining boom.

'The report shows that five cities in Australia—a country renowned for its fine wines, robust economy and great outdoors—now rank among the world's 20 most expensive to live in. Cities such as Adelaide, Brisbane and Perth, for example, are costlier than global metropolises such as London, Hong Kong and Rome.'

Property in Australia is, I'm afraid, vastly overpriced. The costs of this filter down into everything else. For example, retail shops on the high streets have to pay more in rent than ever before. They pass this cost onto you in the form of higher prices for everyday items.

Look, you don't need me to tell you about Australia's spiralling cost of living. Just look at your supermarket receipts, your power bills, and your mortgage payments.

No wonder a recent survey by the National Australia Bank just reported: 'The rising cost of living to be the single biggest cause of worries for Australians right now.'

But…

If you want to maintain your standard of living in retirement, or even live more comfortably on less money, there is one very simple, obvious option…

That option is to:
Retire Overseas
My name is Jackie Flynn.
Last year, I launched an Australian edition of the world-famous International Living magazine.
And this monthly magazine is quickly becoming the 'go-to place' in Australia for people who want to discover overseas opportunities in real estate, travel, retirement and investment.
Over the last four decades, more than 200 contributors—based all over the world—have been showing North American retirees how to live better abroad.
I'm bringing all of this experience and expertise Down Under to help you decide whether an exciting, luxury lifestyle overseas is right for you.
If you—like so many Aussies—muse about the day you can leave the stress of the rat race behind, grab control of your life, and head off on an adventure abroad… with an income that doesn't just sustain you… but allows you to travel, eat well, explore new passions and meet new friends, you'll be amazed at the secrets we can uncover.
Consider the following:
Way back in February of 1985 International Living published an article for Americans explaining how to fly around the world for less than $1,000. At the time, that wasn't even HALF the regular fare.
In fact, it was so low that some subscribers didn't believe it was possible. One actually put us to the test. David Hendrickson and his wife followed the instructions in International Living and actually flew around the world—with stopovers in London, New York, Bangkok, Hong Kong, and Tokyo, for less than $1,000!
But that was back in 1985. What about today?
International Living told American readers recently about an around-the-world airfare for $1,200. That's still less than half the regular fare.
Let me give you another example.
When the U.S. edition of International Living first hit newsstands, our sister publication wrote that you could 'buy an apartment on Spain's beautiful Costa del Sol for as little as $15,000.' Here again, many people just didn't believe it could be done.
One reader decided to find out for himself. In 1985 he purchased a one-bedroom apartment in the Malaga area—with a view of the Mediterranean from one side of the terrace and the mountains from the other.
The price: $13,100.
Not bad… especially when you consider that for the past 22 years he has been renting that apartment during the summer months, most recently for more than $500 a month… which means the place pays for itself just by renting it out in June, July, and August—months when he didn't plan to use it anyway!
International Living has been called…
The 'ultimate travel letter'
And I think you'll love it. If you're an Aussie who wants to broaden their horizons, visit foreign countries, make overseas investments and save money.
Yes, save money. INTERNATIONAL LIVING AUSTRALIA will tell you:
How you can pay for your travel expenses (and then some) to many places simply by shopping for bargains—electronics in Taiwan, clothing in Hong Kong, leather goods in Morocco, gemstones in Brazil and Colombia, antique furniture and paintings in Great Britain, leather goods in Uruguay and Mexico, watches in Switzerland, the list goes on and on. Some people not only pay their expenses this way… they make a living at it!
About almost unbelievable ways to cut your travel expenses. Save hundreds of dollars by purchasing tickets from consolidators and bucket shops… Get discounts—and even commissions—by being your own travel agent.
About retirement havens where you can stretch your money beyond all recognition. Live like a king on a tradesman's pension. If you look beyond your own shores, you'll find that many countries around the world offer far greater benefits and advantages for retirees than your own.
About which overseas stock markets have been the best-performing over the last few years. And because past performance is not always an indication of future performance, INTERNATIONAL LIVING AUSTRALIA makes sure its readers know which markets are the best investments right now.
About one of the best—and still largely undiscovered—retirement 'health havens' in the world. Most doctors here are Australian-trained, a visit to one of them (even specialists) costs between $11 and $17, and a private hospital room with an ensuite, a flat screen TV with cable, costs around $100 a day. Plus most prescription drugs cost about a fifth of what they do in Australia.
Something else that costs a lot less overseas than it does in Australia is…
Real Estate
A report from RP Data-Rismark shows that capital city house prices in Australia went up by 10% last year— the highest yearly growth in four years.
For some Aussies it means the dream of home ownership is even further away than before. It means, if they want to own a patch of red Aussie earth, financial sacrifices need to be made in other areas…
For homeowners, downsizers or empty nesters, on the other hand, this statistic might be great news. It means that when you sell, you should have even more to spend on your retirement lifestyle, including property. And if you look outside of Australia, you can go seriously top end…
Get INTERNATIONAL LIVING AUSTRALIA and you'll learn where your Aussie Dollars can buy breathtaking real estate—outright—in the most desirable locations on the planet.
You'll discover…
The best property buys in one of the least discovered (and most beautiful) spots in the Caribbean. The sand is just as white as anywhere else in this part of the world. The sea is just as emerald. But the real-estate prices are unbelievably lower. We'll tell you where to look for beachfront acreages for less than $40,000.
How to restore an ancient farmhouse in Perugia … for fun and for profit.
Discover some of the cheapest beachfront properties in the world. This stretch of Pacific coastline boasts spectacular crimson sunsets… world-class surfing… and a laid back lifestyle. Yet real estate prices remain up to 70% cheaper here than Brisbane—at least for now.
How you can own your own Irish pub. What visitor to the Emerald Isle, after spending long evenings in local pubs drinking Guinness and listening to ceilidh bands, hasn't dreamt of owning one? The good news is that it is easier—and less expensive—than you might imagine to turn this dream into reality.
How to make a sure-fire investment in rental property in the South of France… Brazil… or any one of a dozen other countries in the world with an active holiday rental market.
How to arrange a trade: your house or apartment for a place in a foreign country… and get a home abroad for free. We'll detail who to contact… what to look out for… how to protect yourself… everything you need to know.
Where to go for the best crayfish in the world. This tiny completely unspoiled South Pacific island also happens to hide some tremendous property buys. A home with a magnificent sea view from the East Coast would cost you less than $25,000.
How to find an apartment you can afford in London, Hong Kong, New York, and all the world's most expensive cities.
Time to Go International
INTERNATIONAL LIVING AUSTRALIA's goal is to make your stay abroad—whether temporary or permanent—as enjoyable and fulfilling as possible… By sharing the kinds of secrets you just won't read about in the travel section of your favourite newspaper. You'll discover…
How to find a bed and breakfast for less than $80 a night in London… a double room in a hotel in central Paris for $78 a night… or an affordable place to stay in any of the world's other major cities.
How to make sure that you never, ever, pay full fare for an airline ticket again. (We'll show you how to save 50% and more every time you fly.)
Where to find the most gorgeous (and inexpensive) white-sand beaches in the Caribbean…
The best way to get the lowest hotel prices in Greece. (This simple little secret cannot be found in any guidebook.)
When not to tell your travel agent where you're going. In some cases, this little travel trick can save you hundreds of dollars.
How to take a world-class, luxury cruise for less than half the regular cost.
Europe's attic… where you can shop for the world's finest antiques at flea-market prices.
The advantages and disadvantages of using an ATM abroad—and how to make sure your bank card will always work in the country you're visiting.
Ritz-style luxury in Madrid for no more than the cost of a regular hotel room.
Travel where tourists can't go. Obtain an independent visa for travel inside Myanmar. Make your way through the Central Asian Republics of the former Soviet Union. Travel safely in Peru. Travel alone in China or Vietnam.
How to gain entrance to the world's most exclusive, most private clubs and casinos… the kinds of places you thought only the rich were allowed to go.
How to take your kids all the way to Europe—and still enjoy the trip.
A well-guarded industry secret: How to book yourself on a Mediterranean cruise at no charge.
Eight easy ways to snag an upgrade.
Why you should never refuse dessert in Finland… pat a Thai person on the head… or eat fish with your hands in Russia.
Not all discount travel agents are trustworthy or reliable. We review the top discounters and steer you right.
The 3 finest hotels in London… and the 5 best for your money.
The best way to see Africa. You'll spend three months on safari—for as much as most people spend on three-week package tours.
One simple thing you can do to keep fit and minimise discomfort on long haul flights.
How to make sure you're never ripped off in a travel scam.
Which airports have the best security—and which ones you should avoid.
The best guesthouse along China's Silk Route. Plan to stay at least four days.
But living internationally is not just about pleasure-seeking.
There's a PRACTICAL side to it, too.
Live Overseas and Pay Less Tax
On February 10th, 2014 accounting firm KPMG released a rather depressing study. It found that Australia has one of the highest personal and corporate tax rates in the OECD.
Right now, you have to swallow as much as 45% in personal income tax rate AND up to 30% in corporate tax.
Is it any wonder that one of the biggest reasons why Australians want to relocate abroad is to reduce their tax bill.
You may be surprised to learn that some countries don't charge income tax at all. Others are particularly favourable to businesses—you can pay a lot less in corporate tax than you pay here.
Take out a subscription to INTERNATIONAL LIVING AUSTRALIA today and you'll learn… :
How to earn $80,000 overseas tax-free.
Learn how tax havens work—and how they can be made to work for you.
The world's up-and-coming tax haven. You've probably never even heard of this tiny, far-off paradise.
The world's most user-friendly tax haven. Ensure the privacy of your financial affairs within an hour—and accomplish the entire thing by email.
An easy and fulfilling way to make your next trip a tax write-off.
How to avoid double taxation on your foreign earnings.
Enjoy regular currency forecasts from a world-respected expert. They can help you best plan your travel—and make sure you get the most for every dollar you spend in a foreign country.
Learn how to avoid 'official' exchange rates and take advantage of more favourable rates on the open market.
Why Switzerland is not the only—and perhaps no longer the best-place to have an anonymous bank account.
Even if your retirement is quite a way off yet.
That doesn't mean you can't plan…
I can only assume you want to make sure that WHEN you retire, WHERE you retire and HOW you retire is on YOUR TERMS… and no one else's.
Retiring and living well is a central theme of INTERNATIONAL LIVING AUSTRALIA. Over the coming months, you'll learn:
How to enjoy a million-dollar retirement—without touching your savings.
Where you can enjoy free medical and dental care.
How to cut your grocery bills by 30%.
Nine countries where you can retire in comfort and style on $1,000 per month, including a nice home, groceries, utilities, country club dues, even entertainment and travel.
Where you can find dinner for two at an excellent restaurant for $15, including wine.
Where health care is very inexpensive… an eye examination costs less than $10, and you can have a cavity filled for $15 to $25… In one of the places we have in mind, membership in the national health care system is as little as $40 a year.
Where you can take a taxi across town for $1.50… get a sandwich and a coke for $2 … and catch a first-run movie for $3.
And Much, Much More…
Starting now, Australians like you can get a glimpse of the world from a more exciting, adventurous, and contrarian perspective… the world of International Living.
It's a big world; bigger than you think, full of opportunity for fun and for profit.
And in this letter I've only really skimmed the surface of the opportunities… adventures… money-making and money-saving strategies presented in each and every issue of INTERNATIONAL LIVING AUSTRALIA.
Each month, we will survey the best information available… from government agencies, private firms, independent analysts… and,—critically—from our extensive network of roving contributors, Aussie expats and correspondents, who report back to us weekly on their discoveries.
One such contact emailed recently with a stunning discovery…
… Right now, Australians can buy a one-bedroom, one-bathroom condo situated on the east coast of Phuket, Thailand. It's in a prime location—only five minutes away from the beautiful upmarket area of Cape Panwa.
The condo comes fully furnished and designed with a modern and stylish décor. The use of a swimming pool is available just a short stroll away in a neighbouring complex.
And the Price? THB 1.34 million.
In Aussie Dollars? A shade over forty-three grand!
What does $43,000 buy you in Sydney?
Garage? Beach hut?
Honda?
What you'll get in the months ahead is immediate, timely information and insight that would cost you thousands of dollars annually—and take weeks of your time to compile—if you had to arrange it all on your own.
We'll put you in touch with a network of more than 200 correspondents writing from South East Asia, Great Britain, the Greek Islands, Uruguay, France, Ecuador, Belize, Ireland, the South Pacific, and dozens of other regions worldwide.
These correspondents—many of them Australian expats—will make sure you have the firsthand, unbiased information you need to benefit from your international travel or living experience.
So what does it cost to get all this?
A regular, one-year subscription to INTERNATIONAL LIVING AUSTRALIA—that's 12 information-packed issues—costs just $69.
But today, you won't pay that. Take a trial subscription right now and you'll pay just $49 for your first year's membership.
I'd like to offer you that 29% discount for the first 12 months to give you every incentive to check out all the great work, travel and retire overseas tips and ideas in our publication.
But I offer this deal on the basis that, if you like INTERNATIUONAL LIVING AUSTRALIA—and you want to continue into a second year of membership—you'll pay the regular subscription price of $69 a year, until you tell me otherwise.
Remember, you'll also receive:
A FREE electronic copy of How to Retire in Paradise from $40 a Day which will introduce you to five of the most attractive and exciting retirement options, destinations and opportunities in the world.
You'll learn where to go to enjoy a year-round tropical climate, where to find world class, affordable healthcare, what it costs to buy real estate, and where you can enjoy all the trappings of a luxury retirement, including eating out in gourmet restaurants for cents on the dollar.
If you've read this far I'm guessing your interest is piqued, at least a little…
To take a no-obligation, 30-day trial subscription now, click HERE
Click above and you'll go to a trial subscription form where you'll be asked for a few details.
It's a 100%, no-risk, no-obligation trial
And you'll be granted instant access to download your report: How to Retire in Paradise from $40 a Day.
When I say it's no obligation, I mean you'll be covered by our 30-day money-back guarantee.
Here's how that works.
If INTERNATIONAL LIVING AUSTRALIA doesn't live up to your expectations, call our membership services team on 1300 559 359 any time in the next 30 days and you'll get a full refund of the subscription fee. Any INTERNATIONAL LIVING AUSTRALIA issues or special reports you receive in that time are yours to keep, with my compliments.
Read your free report and first issue.
If you like the idea of living internationally with our help, stay on as a subscriber.
If you don't, ask for a refund inside 30 days. It's pretty simple.
I want to make a final, important point:
This is not about kissing

goodbye to Australia for good

This is about creating a SECOND home.

You don't have to surrender your Aussie citizenship to live a luxury lifestyle somewhere else, and nor should you. Australia is an amazing country. I genuinely believe that.

This is about giving you alternative options—and showing you opportunities to live, work and retire overseas that you might not otherwise get to hear about.

For example, you may decide you only want to live abroad for certain months of the year. You might be looking to escape to your own corner of paradise at times to suit you and your family. The rest of the time you might be happy enough at home.

That's fine. It's your life, your retirement.

I just want to present those other options and ideas to you so that you can make up your own mind.

I believe that in doing so, you can change your life—by giving you more options, more alternatives in the WAY you live… and WHERE you live.

And even if you never take advantage of any of the exciting ideas in each issue, you'll still find your subscription well worth the modest price.

You see, this publication is entertaining as well as informative. It can bring you all the excitement and glamour of living and travelling in foreign countries—even if you never leave your armchair.
INTERNATIONAL LIVING AUSTRALIA is your passport to a brighter, more exciting, more adventurous future
I'd love you to take advantage of this special opportunity to become one of our first subscribers.
Remember: if you're not completely satisfied within 30 days from today, simply cancel your trial subscription. I'll promptly reimburse you all the money you've paid with no questions asked.
And no matter what, your first issue, and free INTERNATIONAL LIVING report are yours to keep.
Arrange your subscription immediately by clicking on the big 'Subscribe Now' link below.
I look forward to helping you plan your overseas adventure…
Sincerely,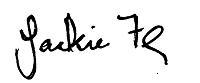 Jackie Flynn,
Publisher, International Living Australia