"We would need at least four times the income to live [in Australia] the way we are living here…"
—Terry and Arisa, from Queensland

Find Out How YOU Can Retire Early And Live Comfortably In Today's BALI…
… On As Little As $1,590 A Month (Or Less!)
Dear International Living Australia Reader,
They're just four hours away by plane from their home state of Queensland.
But Terry Bishop, 59, and Arisa Inlakesh, 56, get to enjoy a much more affordable lifestyle in their part-time "home away from home."
It's a modern, one-bedroom furnished villa—complete with a large garden—that sets them back just $800 a month. And it's just a short walk from the lush green jungle surrounding their Balinese villa to the nearby ocean.
It's a relaxing island life, as Arisa explains, "I like to wake up and do my qigong, which is an exercise practice that's like tai chi. Afterwards, we like to take a stroll down to the beach and find a beautiful place to swim. If we need some greens, sprouts or fruit, we'll pick them up at the local warung (a small local shop). And sometimes, we stop to feed the fish in the lovely little pond where we live."
Since their villa is so cheap to rent, they always have plenty of money left over each month to pay for their household help, buy fresh produce, indulge in regular massages and explore their new surroundings.
"We would have to have at least four times the income to live the way we are living here," says Arisa.
"We live comfortably on just $1,590 a month."
Candidasa, just 90 minutes north of Denpasar International Airport by car, offers an ideal lifestyle for expats and retirees seeking peace and quiet in an affordable, tropical setting. Its laid-back ambience, sweeping panoramic views of the nearby Gili Islands and Lombok, and ideal location for exploring Bali's exotic tropical surroundings all make it a great place to set up a new home base.
"We sometimes go to Jasri Beach, where there's a massive swing and you can swing out over the ocean," says Terry.
"There's also a freshwater lagoon right in the middle of town that has a pond containing thousands of lilies that open to the size of dinner plates at night. It's a lovely walk. Sometimes we can hear chanting from the Ghandi Ashram on the grounds. It's across the road from the Temple of the Fertility Goddess Hariti, and people from all around Bali come there when they are hoping to conceive children.
"Sometimes, we'll take a walk through a rural coconut plantation that's just a little inland. We regularly go out on a jukung (a local-style outrigger canoe) to visit White Sand Beach or just for a sail around the outcrop islands. It's spectacular."
And even though Candidasa is a bit "off the beaten path" compared to other more popular destinations in Bali, Terry and Arisa have had no problem making new friends. In fact, they have a rather active social life in Candidasa. "There are about 100 expats that live here and they really are a worldwide group," Arisa says.
All over Bali—"The Island of the Gods"—you'll find forward-thinking, budget-minded Aussie now living life to the fullest on an island most people only dream of visiting on holiday.
And they're all saving heaps of money in the process…
In Bali, You Can Enjoy A Richer Lifestyle For A
Fraction Of What It Costs To Live In Australia

(If You Know Where To Look…)

Here's the lowdown on Bali these days…

Over 1 million Australians visited Bali in 2017.

Yet most only do just that…

They just visit…

And then they go back home.

BUT IF YOU GO ONE STEP FURTHER and decide you want to LIVE in Bali and make it your new part-time or full-time HOME…

…you'll QUICKLY find that instead of just experiencing Bali as a mainstream tourist, YOU can go much, MUCH deeper and start enjoying the kind of fun, fulfilling and affordable tropical island lifestyle most people only dream of.

And that's why I'm writing to you today.

My name is Jackie Flynn.

I'm the Publisher of International Living Australia.

And today, I'd like to introduce you to an "insider's view" of Bali…

…and show you just how exotic, exciting and especially AFFORDABLE life in Bali can be.

In today's Bali…
You can find "hidden" deals to help keep your cost-of-living ultra-low. Once you get to know Bali on a much more intimate level, you'll be able to drastically reduce your monthly spending and save BIG TIME. And without giving up anything, either! In fact, with a monthly budget of just $1,590 a month or less, you could enjoy a comfortable life. (Imagine how nice it would be to live large on an island paradise…at 1/3 the cost-of-living back home!)
You can stay in an authentic Balinese home with all the modern comforts and amenities you could ever want. High-speed internet. A washer and dryer. A fully stocked kitchen. A refrigerator. Air conditioning. A flat-screen TV with plenty of English-speaking TV channels. And just about every other modern "creature comfort" you'd ever want.
You can live in peace in your own version of "Paradise". No more maddening crowds! No more queues! No more traffic! All you hear outside your home are the exotic birds singing and the cheeky monkeys chatting away in the trees. And when you step outside, you've got lovely panoramic views of dense jungles and rainforest, striking stepped rice paddies, towering volcanoes and fiery sunsets over the Indian Ocean.
And as I mentioned, Terry and Arisa are far from the only Aussies "living the dream" in Bali these days.
You'll find plenty more!
"I save hundreds of dollars each month by being in Bali…"
Five years ago, Bali expat Bill S. was still living full-time in Australia. But one day, while sitting with his friend Rick in the yard over a beer, they came up with an idea.
"Why not go to Bali?"
After all, they knew it was super-close to Australia. And they also knew finding affordable round-trip flights to Bali wouldn't be a problem, either.
So they packed their bags, grabbed their passports and just decided to go!
"The idea came to us like a bolt of lightning. Looking back, it was so crazy for two guys in their 50s to get an idea like that and just go for it," says Bill.
Little did Bill know, that impromptu holiday would completely change his life forever. He fell in love with Bali's slow pace, beautiful beaches, relaxing lifestyle and friendliness of the Balinese people.
So he decided to make Bali his new "home away from home."
Today, Bill rents a furnished studio apartment in a quiet part of Legian—a laid-back surfside town just north of lively Kuta Beach.
"It's in a perfect location on a quiet lane so it's like I'm in a lush countryside setting. My apartment has air-conditioning, Pay TV, a terrace, fridge and kitchen. When I factor in electricity, bottom line rental is only $300 per month."
And although Bill doesn't live in Bali full-time, he always relishes returning every few months to stay in the apartment he keeps there.
"Upon arrival in Bali, the feeling is always the same, just like a switch is turned off and relaxation takes over when I walk into my apartment. By the time I hit the beach with a cold beer, I'm in another world," Bill says.
"I save hundreds of dollars each month by being in Bali. The cost of food, entertainment and beer is a fraction of the cost of Australia. I can find my favourite local dish "mie goreng seafood" (stir-fried egg noodles with seafood and vegetables) anywhere for $3, my beloved avocado juice for $1 and beer for $2.50!"
"The cost of living here is so low."
Expat Mike H. also enjoys an extremely affordable, fulfilling lifestyle in Bali up north in Lovina—a quiet, laidback town he discovered on a backpacking trip many years ago.
And he's found that Bali is worlds apart (for the better!) from his life in Australia.
"The biggest difference between Australia and Bali is the community aspect. It is common in Australia for neighbours to not even know each other by name. In Bali, everyone knows everyone, which of course has it pluses and minuses but, in my experience, it has been overwhelmingly positive," Mike said.
"Other advantages are the low cost of living, the ease of setting up a tourism business, and the low salary costs, making it possible to employ more people than you may need. Bali is an easy and beautiful place for foreigners to live."
Before arriving in Bali, Mike dreamt of running a small guesthouse. And thanks to Bali's low cost-of-living, high tourism numbers and ease of starting a new business, his dream has finally come true.
Mike's guesthouse now has solid bookings throughout the year and gets completely booked out during the high season.
"A guest said to me the other day, 'You have really created a great lifestyle for yourself.' I couldn't help but smile and think, yes—a million miles away from my former life," Mike said.
And since Mike lives on the much-less-touristy north side of the island, he's found it's extremely affordable.
The cost of living here is so low," Mike said. "Our basic expenses, such as food and utilities, cost around $650 a month. A dinner for two, including drinks—at least two large beers for me and iced tea for my wife—costs under $25."
In Bali, You'll Never Run Out Of Fun Things To Do…
Once you make Bali your new part-time or full-time home, you'll have a whole new world at your doorstep—each and every day you're there.
The opportunities are endless.
You can…
Ride your bicycle at sunrise from the front door of your $659-a-month Balinese villa through lush green rice paddies on your way to a breakfast date with friends from all over the world. (Watch out for the gaggles of ducks crossing the street!)
Sip on a cappuccino and catch up on your reading at a corner café in laid-back Sanur — one of Bali's most pleasant upscale beach towns…
Watch world-class surfers score epic barrels at Uluwatu's Outside Corner—considered one of the best left-hand waves in the world—before accepting an invite to a sunset bonfire…
Visit the morning markets in Denpasar with an expert Balinese chef to shop for fresh culinary treats—then learn how to cook tasty local-style meals like nasi campur (mixed rice), satay ayam (chicken satay) or bebek guling (crispy duck) for your expat and local friends at your new home…
Practice yoga at any of the plentiful yoga studios in verdant Ubud—the spiritual centre of the island. Then, perhaps jump on your motorbike, head out for the afternoon and explore the island on your own. (Make sure to stop by the Tegalalang Rice Terrace just north of Ubud to have a cup of coffee and take in the magnificent views!)
Watch the sunset and surfers and listen to live music from the beach in the laid-back expat haven of Canggu. (Here you can grab a few ice-cold Bintangs and a hot buttered corn on the cob straight off the BBQ right on the beach…for just a few dollars!)
Start your own profitable business to help fund your new lifestyle. (You could open your own beach bar in trendy Seminyak…host walking tours of Ubud…offer horseback riding tours on the beach…start your own "earn anywhere" online business…write e-books for fun and profit…or perhaps do something completely different.)
…and so much more.
And RIGHT NOW, You Can STILL
Find Some Great RENTAL Deals In Bali…
NOTE: Although you CAN buy property in Bali, we highly recommend renting first so you can get a feel for living on the island. That's what most people prefer to do, anyway. It's quick. It's easy. And it's something you can arrange before you even leave home, should you choose to do so.
And here's some good news…
If you know where to look, you can STILL find great rental deals in Bali's finest places to live.
Check out these examples of recent property rental deals…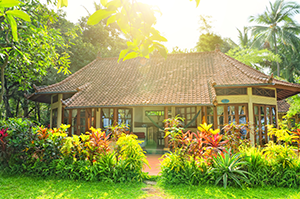 A two-bedroom, one-bathroom fully-furnished apartment in the trendy beachside town of Seminyak—known for its fantastic restaurants and cafes, thriving expat community and spectacular sunsets over the Indian Ocean. This air-conditioned apartment is within minutes of the beach and supermarkets.
Rent: $864 per month.
A charming two-bedroom cottage with an extra room for a studio or office in the surfside town of Canggu. The cottage comes fully-furnished and offers two nice bedrooms with ensuite bathrooms. It also offers an open-living plan, a swimming pool, a small garden and a private parking area. And it's only minutes from the area's most popular restaurants and beaches.
Rent: $704 per month.
A one-bedroom, one-bathroom villa on a narrow, quiet side street in the lovely inland jungle town of Ubud—which boasts a good mix of bars and restaurants, a lively arts and culture scene, a thriving health, wellness and yoga scene, and an active expat community. This bargain villa rental offers an open living area, a spacious kitchen and a large garden. It's also just a 10-minute walk from many restaurants and yoga studios.
Rent: $659 per month.
A fully-furnished one-bedroom villa - also in Ubud - suited perfectly for a quiet, peaceful lifestyle. Includes a basic kitchen, modern bathroom and views of the surrounding rice paddies.
Rent: $400 per month.
A brand-new, fully-furnished studio smack bang in the middle of Kuta with air-conditioning, a private shower, shared gardens and a parking area. Wi-Fi is also included, as is housekeeping three times a week. Only three minutes away from Discovery Mall.
Rent: $350 per month.
So if you've ever dreamed of living in your own place in Bali at a very affordable price, you can rest assured that you can.
Here's How Far Even A
Modest Budget Can Go in Bali TODAY
While it's true that certain aspects have become expensive in recent years (one night's stay at the Luna 2 Private Hotel in Seminyak starts at $3,000 a night!)…
…you can STILL live VERY affordably in Bali…provided you don't follow the well-worn tourist trail.
Here's a sample monthly budget for a couple that wishes to live comfortably AND affordably in Bali today:
| | |
| --- | --- |
| Rent: | $500 to $1,100 |
| Electricity: | $80 |
| Water: | $7 |
| Mobile Phone: | $10 |
| Gas: | $2 |
| Internet: | $20 |
| TV: | $30 |
| Eating out: | $150 to $300 |
| Housekeeper (six hours a week) : | $100 |
| Pool Maintenance: | $40 |
| Gardner: | $30 |
| Transportation (car rental): | $60 to $250 |
| Fuel: | $35 |
| Health Insurance: | $45 |
| TOTAL: | $1,109 to $2,049 |
NOTE: If you buy your own car or motorbike, this monthly budget could wind up even less in the long run!
Up your monthly budget to, say, $2,500 to $3,000 a month, and you can live like royalty - including living in luxury properties, fine-dining at upscale restaurants, and even international travel…
…all for a fraction of the cost-of-living in Australia.
And as a result, your financial peace-of-mind and your overall lifestyle will improve dramatically…
…and all while living on this exotic island!
But Don't Wait…

The Word About Retiring on Bali is Getting Out!

"With an ageing population resulting in record numbers of Australians approaching retirement age, our northern neighbour is emerging as an alternative for people looking to maintain their quality of life throughout retirement while saving money."

- Herald Sun

"BALI is a great leveller, with expats from unlikely backgrounds connecting in cafes and clubs. Those who would be hard-pressed to pay the weekly grocery bill in Australia can afford to eat out frequently here…You live on a third here of what you need in Australia."

- The Australian

"A recent survey of Australians living in Bali by Dr. Davies and Dr. Aileen Hoath found people aged over 60 moved to Bali because they were able to access high quality housing in a desirable natural environment and access affordable in-home help, all for a much lower cost than Australia."

- WA Today

And if there's one thing we've learned over the past several decades, it's this:

Once the word gets out, prices go up.

It's all but inevitable.

That's why NOW is the BEST TIME EVER to get your hands on the most trustworthy "inside" intelligence on Bali you can find and give this tropical island a much closer look…if living or retiring on Bali is something you've always dreamed of doing one day.

Just think of it…
"Living The Dream"
The opportunities our scouts researched are the best places in Bali to live well on a budget…retire in first-class style…and completely recharge and rejuvenate your lifestyle!
Scouts like full-time expat Josephine Brierley.
I'll introduce her to you in just a minute…
Imagine how easy it would be if you had my island scouts pointing the way for you, step-by-step…
Well… I'd like to offer you the "next best thing" right now.
It's a way for you to leverage all of the hard-won intelligence our on-the-ground scouts recently uncovered in Bali…and put this intelligence to good use for YOUR next trip.
Introducing Our Most Comprehensive Resource EVER For Living, Retiring and Starting a New Business in Bali…
If you've ever dreamed of–
Staying in Bali for more than just a few short weeks…
Finding a modern, affordable home where you can stay comfortably long-term—and at a drastically reduced price when compared to Australia…
Retiring in Bali full-time—and spending your time in Paradise…
Even of starting your own "dream" business in Bali to help fund your stay…
…then I've got some great news for you.
Right now, I'd like to show you how you can gain immediate access to the most ambitious, most all-encompassing resource on living and retiring in Bali we've ever created.
It's called Escape to Bali: Everything You Need to Know To Retire Better, Invest Well, and Enjoy the Good Life for Less.
And this ALL-NEW, one-of-a-kind manual is—without question—the most COMPREHENSIVE and CURRENT resource for living and retiring in Bali today.
It's not just a simple guide for "tourists" who want to come to Bali for a week or two and then just fly back home.
And it's nothing like what you'll find in bookstores, read about on travel websites, or hear about from friends.
Instead, Escape to Bali gives you everything you need to not just visit, but LIVE, EXPLORE, BUY REAL ESTATE, EARN INCOME and RETIRE in Bali today.
Good luck trying to find another reputable guide that shows you how to make the "Island of the Gods" your new part-time or full-time home!
There really aren't any out there! Not like this!
That's why it's such a great idea to gain access to our latest and greatest resource on today's Bali.
Nothing else compares to it…
Escape to Bali: Everything You Need to Know To Retire Better, Invest Well, and Enjoy the Good Life for Less.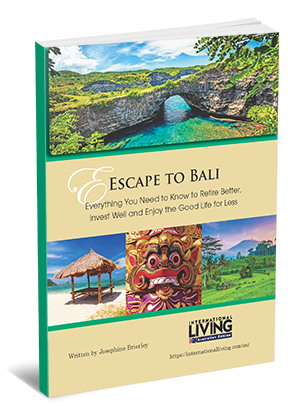 THIS COMPREHENSIVE MANUAL alone gives you MORE easy-to-understand, MORE easy-to-follow and MORE actionable advice on living, retiring and starting a new business in Bali than any other Bali-focused resources available today.
It's like having a consultant walk you through your options and offer you advice.
Only instead of paying somebody hundreds or even thousands of dollars for their time and expertise, you get the benefit of author Josphine Brierley's hard-won, on-the-ground experience of starting a new life in Bali.
She's done all the hard work for you…so you don't have to!
Meet Josephine Brierley
Your Eyes "On The Ground" Contact In Bali

and Author of Escape to Bali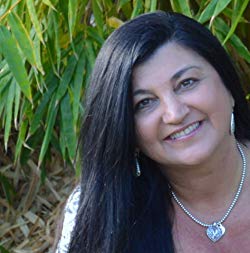 Living in Bali was a lifelong dream for Josephine and her husband Rob.
They'd been travelling from Australia to Bali for some quality rest and relaxation since 2004.
They loved Bali so much, that several years ago, she and Rob decided to move to Bali permanently.
They made the beach town of Sanur their new home.
It was a welcome change from their former, more stressful lives in Australia.
"For years back in Australia, we worked in high pressure roles. Rob managed a Bunnings store for 19 years and my role as an Area Manager meant I was away from home two weeks of every month. Routine ruled our lives and long days meant we hardly saw each other," Josephine said.
"While on holiday in Bali in 2015, we became aware of an opportunity to manage a beach restaurant in Sanur. It was too good an opportunity to pass up. After rushed meetings before returning home, and many emails to follow, our decision was made"
"We sold up our home, our cars, and most of our belongings and moved to Bali. We now manage a beach side restaurant called Beach House Sanur, and even though we still have responsibilities, our work to lifestyle ratio leans much more to the relaxing side."
"I have plenty of time to spend writing novels, something I've wanted to focus on for many years but never had the time."
As you can see, full-time Bali expat Josephine has already done all the "hard" stuff.
She's already made the move to Bali with her husband.
She's already had to figure out the best places to live…what visa to apply for…how to build a network of trustworthy contacts…where to discover the best restaurants…the works.
She's even learned how to run a business in Bali!
And she's taken everything she learned in her experience moving to Bali and documented it in the comprehensive manual Escape to Bali, which you'll receive as part of this massive offer.
Highly-specific and useful intelligence for Australian expats in Bali ONLY. (This unique guide is JAM-PACKED with the kind of firsthand, on-the-ground insights you simply won't find in guidebooks.)…
The best places to live and retire in Bali RIGHT NOW. (Venture beyond tourist magnets like Kuta and you'll be amazed at all the amazingly affordable great places you could soon call home.)
Where you'll find the best property bargains. (You'll be pleasantly surprised at just how affordable this island can STILL be. Even today!
How to buy property legally. (You may just want to rent, but if you do want to buy your own place—which is possible for expats to do—it's vital you know how to do it right.)
How to find the right solicitor, accountant and advisors for your long-term stay. (Having a few local "pros" on your side may require a little extra investment on your part, but it can make all the difference in the world when purchasing property, starting a new business, or getting the right visa.
All about Bali's visa and residence options for expats. (Yes, you CAN stay in Bali long-term, legally! We'll show you how to do it EASILY without getting into any pickles with immigration.)
How to obtain permanent residence. (It's in fact easier than you might think—once you know the process.)
How to start your own business. (You'll find hundreds of expat-owned businesses in Bali. And if you're entrepreneurial-minded, this is a great way to help fund your stay, keep busy, and contribute to the island! We'll show you what you need to do to get started.)
Where to go for reliable healthcare (with English-speaking doctors). You'll know exactly where to find the best dentists, doctors and hospitals in Bali with our help. Plus—you'll find out how much you can expect to pay for a teeth cleaning and filling…an annual check-up…or corrective eye surgery…
How to set up your mobile devices with a data plan the moment you leave the airport. (Bali now has surprisingly-quick 4G access all over the island. We'll show you what you need to get your mobile data plan up and running on Day 1.)
How to get around Bali by taxi…car…motorbike…bicycle…foot…or public transportation…
Where to find the best shopping centres and stores. Places where you'll find modern amenities like mobile phones, gas grills, an ergonomic chair, new running shoes, designer sunglasses, or just about anything else you need…
Where you can find the best international restaurants. You'll find out what kind of cuisine is available…how much you can expect to pay for a good meal…PLUS where you can find affordable, western-style food in grocery stores that you can cook at your place in Bali…
Where to meet other like-minded expats…and build a network of new friends and contacts in Bali…
…and much, much, MUCH more!
Order Escape to Bali: Everything You Need to Know to Retire Better, Invest Well, and Enjoy the Good Life for Less before this offer expires and you'll also get…
A Special Bonus To Help You
Make The Very Most Of Your Bali Experience!
You'll also receive…
SPECIAL DIGITAL BONUS:
Bali: Off the Beaten Path—The Best
Things to Do, Places to Eat, and Sights to Visit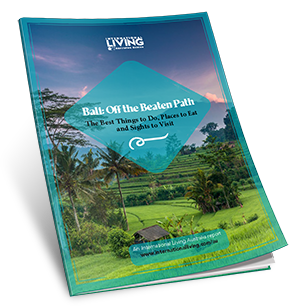 Just recently, Wendy Justice, one of International Living Australia's Southeast Asia Correspondents, spent extended time in Bali searching for the best deals and opportunities for expats and retirees.
And along the way, Wendy discovered many "unexpected" fun things to do and see…and kept track of her discoveries in a journal.
Things like great "off the beaten path" restaurants which charge only a few dollars for a fantastic local meal…exciting, exotic and affordable activities you won't see advertised in most Bali tourism mags…magnificent sights to visit in Bali that other tourists simply don't know about…and more.
After Wendy's exploratory trip to Bali, she noticed she had taken a large amount of random yet potentially helpful notes on what to see and do.
So she decided to take these notes in her journal and put together a brief "report" that reveals all of her random tips in one place…so that anyone interested in giving Bali a closer look can use these tips on future visits.
We've called this Special Digital Bonus Report, Bali: Off the Beaten Path—The Best Things to Do, Places to Eat and Sights to Visit.
And in Bali: Off the Beaten Path, you'll discover tips like:
How to find the morning markets where you can see locals making authentic canang sari baskets as offerings for the gods. (You'll instantly fall in love with the smell of burning aromatic sandalwood incense wafting from the offerings.)
The best time to visit the stunningly beautiful ocean side Tanah Lot temple and beat the crowds. (Don't forget to bring your camera or mobile phone to take photos. It's a photographer's dream!)
Where you can find Bali's best white-sand beaches—far, far away from the maddening crowds. (You'll wonder why virtually nobody else has discovered these beaches. And they're not far from the airport, either!)
How to take enviable photos of the spectacular local scenery. (Waterfalls, rivers, volcanoes, waves, sunsets, jungles, wildlife, festivals, ceremonies and more. You'll be spoiled for choice!)
What you should and shouldn't do when you encounter a troupe of wild monkeys. (HINT: Never smile!)
How to get around from place to place in Bali for as little as 70 cents. (You'll be amazed how easy this is to do!)
A little-known beach town that exudes a charm and warmth that is delightfully inviting. If you need some serious rest and relaxation in a beautiful, tropical setting, this is the place.
…and so much more.
And you'll get this Special Report, Bali: Off the Beaten Path—The Best Things to Do, Places to Eat, and Sights to Visit, FREE when you order Escape to Bali now.
Order now and you'll gain access to Escape to Bali: Everything You Need to Know to Retire Better, Invest Well, and Enjoy the Good Life for Less) as soon as your order is processed.
And once you've done that, you can start planning your trip to Bali…confident that you'll know exactly where to go…what to do…who to contact and more…without spending a fortune or enduring unnecessary hassles.
Remember, as part of this special offer you'll receive:
Escape to Bali: Everything You Need to Know to Retire Better, Invest Well, and Enjoy the Good Life for Less.
Special Digital Bonus: The Special Report, Bali: Off the Beaten Path—The Best Things to Do, Places to Eat and Sights to Visit.
You won't find this kind of information anywhere else…at any price!
And once you've got all this right at your fingertips, you can start planning your trip to Bali…confident you'll know exactly where to go…what to do…who to contact and more…without spending a fortune or enduring unnecessary hassles.
The Most Affordable Way To Start Your
Journey Toward "Living The Dream" In Bali!
So how much does it cost to get your hands on a copy of this ultra-powerful, ultra-helpful Bali resource?
When you consider how much time, money and energy we invested in this project, we could easily justify charging several hundred dollars.
The good news for you is...it won't cost you anywhere near that much.
So instead of asking for $500…$300…$200…or even $100 (which would be a MASSIVE bargain for this kind of how-to info), we're only asking for $99.
For just $99, you can get your hands on the most complete, the most comprehensive, and the most cutting-edge resource on how to live WELL and AFFORDABLY in Bali today.
EVERYTHING you need to know is included in this invaluable resource.
And remember as part of this special offer, you'll also gain access to a Special Bonus, Bali: Off the Beaten Path—The Best Things to Do, Places to Eat and Sights to Visit.
You can't get this kind of information anywhere else…at any price!
But you only have a few days to take advantage of this special offer.
And This Offer Comes with a
100% Money-Back Guarantee
If you're truly seeking a REAL way to make Bali your new home WITHOUT spending more money than necessary…
…to live in a place where it's warm and sunny 12 months a year…where people speak English and welcome visitors with open arms…where the views of the volcanoes, rainforests and world-class waves always remind you what a special place you're living in…
…to benefit from a much lower cost-of-living than what you'll find in Australia…
…to make friends with other expats from all over the world (and make friends with plenty of super-friendly Balinese locals, too!)…
…to enjoy some tasty Indonesian cuisine for just a few dollars per meal…
…and to get the very most out of today's Bali…
…then I strongly urge you to give this opportunity a try today.
In fact, we're so confident you'll be impressed by everything you'll discover in this all-new resource that we're going to give you 30 days to explore everything in it.
And then, if you decide that Bali is not for you, just let us know within 30 days and we'll refund 100% of your money—no questions asked.
Now's The Time To Give Bali A Much Closer Look!
You don't want to delay and miss out on the opportunities we reveal in Escape to Bali as other readers have regretted doing in the past.
Expect these exciting, low cost destinations and opportunities in Bali to experience the same kind of growth and success as the many havens we've recommended to our readers in the past.
And once the expat havens we've revealed in this special Escape to Bali offer start receiving more and more press, even more international visitors will start coming here in search of affordable living options in Bali…
…and property prices will likely continue to creep upwards across the island.
This is why now's the time! Get in on Bali NOW!
Here's How To Order Escape to Bali
You've got nothing to lose…and so much to gain.
To order, simply click on the link below and follow the instructions.
And if you've ever dreamed of living in Bali—even part-time—this simple, obligation-free decision could easily be one of the SMARTEST decisions you make this year…
…if not your entire life.
Now's your chance to take a much closer look at Bali…
…before the crowds beat you to it!
Sincerely,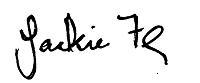 Jackie Flynn,
Publisher, International Living Australia
P.S. You can live well in Bali on a remarkably modest budget, since prices in Bali are STILL far, far lower than what you'll find in Australia. As little as $1,590 a month or less can provide you with a surprisingly comfortable lifestyle in Bali…even if you rent an authentic oceanview Balinese villa, hire a housekeeper and dine out regularly! But don't wait for long if you want to discover affordable Bali yourself. The time is NOW. If you've ever wanted to make "The Island of the Gods" your new part-time or full-time home, don't waste another moment and order this white-hot resource on today's Bali NOW! You'll be glad you did.
P.P.S. Remember, when you order Escape to Bali: Everything You Need to Know to Retire Better, Invest Well, and Enjoy the Good Life for Less you'll also receive the Special Bonus—Bali: Off the Beaten Path—The Best Things to Do, Places to Eat, and Sights to Visit, The Easiest Way to Get a Visa in Bali… The Nearby, Low Cost, Tropical Haven, The Secrets of Luxury for Less—Great-Value Rentals in Bali and Bali's Most Liveable Beach Town
It can be yours today for only $99.
You must order before this offer expires.
Here's what a few more expats have to say about their new, stress-free and more affordable lifestyles in today's Bali:
"I enjoy both local and Australian food. I like to cook and frequent local markets for ingredients. I also enjoy small local cafés; the Balinese food is delicious and varied. A full Australian breakfast in my favourite little café goes for $2.50, a delicious suckling pig lunch for the same price, and a cold local Bintang beer for the same price or less, with a local Bali coffee coming in at less than $1."
Bernie M.
Bali Expat
"I have more friends since I have been living in Bali then I ever had in Australia. I have many local friends and many expat friends whom I have met here. I have friends from the Netherlands, Austria, Italy, Japan, Australia, New Zealand and more. Life is good—it is easy and uncomplicated with no stress."
Kris R.
Bali Expat